TRS Supremo K Chandrasekhar Rao has ordered all his party cadres to do coolie work and donate towards the mammoth party meeting which is about to be conducted on April 17.KTR the devoted son of KCR made his first move and worked as an ice cream maker and raised a fun of about 5 Lakhs.
Queue gathered just to buy ice creams from the hands of KTR.He and another party member did this and served ice cream for the customers for one hour. Malkajgiri MP Malla Reddy donated Rs 5 lakh as his contribution to the minister.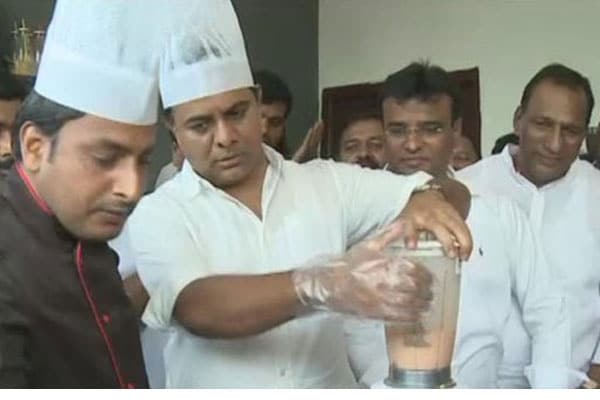 All the money gathered by his party members through coolie work will be used for the meeting to be conducted.KCR took this move to solve the financial crisis caused by demonetization.KTR gathered 5 lakhs as an ice cream maker. Can a normal icecream wala make this in his normal routine????

Will ADMK government last till 2021?

Chennai sources have stated that after months of hard negotiations and several false starts, Tamilnadu's ruling AIADMK party today finally announced a merger with Chief Minister E Palaniswami or EPS, and his rival O Panneerselvam or OPS shaking on it and also visiting together the beach side memorial of J Jayalalitha, where OPS started his rebellion. The AIADMK has agreed to expel VK Sasikala, the jailed party chief.