Sources have stated that US president Donald Trump has the quirky knack of praising the beauty of women. While some call him a 'flirt', others dub his remarks against women as 'sexist'. Unperturbed by the trolls and criticism, Trump has yet again made a comment on French First Lady's looks.
According to sources it was stated that along with his wife Melania, Trump is on a visit to France. During his meeting with French President Emmanuel Macron and his wife Brigitte, 64, on Thursday, Trump told the French first lady, "She is in such good shape", according to a video published on the French government's Facebook page. Brigitte's response to his comment was unclear.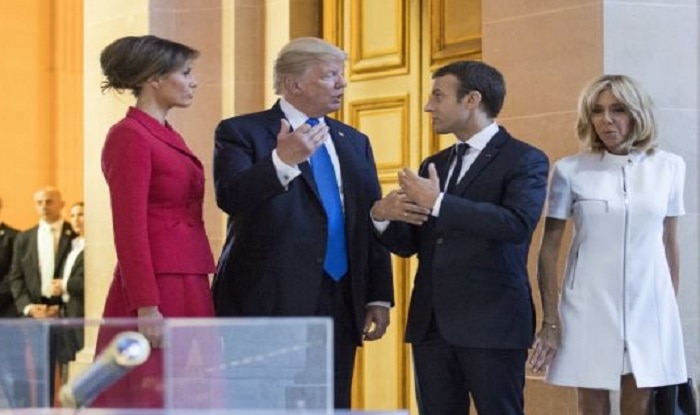 Meanwhile the Social media had reacted to the video with netizens denouncing Trump's comments as 'sexist'. Trump's supporters on the other hand call his comment a 'compliment'. The White House has reportedly declined to comment on the issue.


Why Telangana teachers wore helmet at school??

Hyderabad sources have stated when taking a cue from Bihar staff who wore helmet at their workplace, back home in Medak district teachers on Wednesday wore helmet as a mark of protest. The incident happened at Zilla Parishad High School of Chinna Shankarampet village after a chunk of roof fell on a staff member.According to sources the building is in dilapidated condition and staff's repeated attempts to get it repaired have only fallen on their deaf ears.