Andhra Pradesh Chief Minister Chandrababu Naidu is trying do things amongst his tight schedule and battling the bifurcation woes is his prime motive. Besides the usual political challenges from the Opposition parties, Naidu is suffering from unnecessary trouble and from a BJP faction which takes steps to prevent the alliance.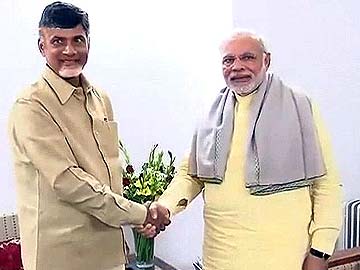 Naidu was asked regarding this  in an interview with a National Media. How is the relationship between TDP and BJP? Can we expect the alliance in the coming 2019 polls etc.? is the question. Naidu did not openly reveal any particular details and said, "Relations between the parties are cordial. I don't see any such odd problem.
Everything is fine and settled". For another question, he pulled BJP and said  that he is not focusing about additional cabinet berths but wants the center to fulfill the promises already made to the state.




Facing each other after a faceoff!!

After verbal attacks, the prime minister Modi and former prime minister Manmohan Singh came face to face, as they shook hands during the event to mark 2001 parliament attacks anniversary. Both the current and former prime minister paid their respects to the nine Martyrs who died after terrorists attacked parliament and opened fire on 13 December 2001.