India's leading value Fashion brand, Max Fashion recently unveiled its new Spring 2018 Collectionin Vadodara at Inorbit Mall. The collection was showcased in a Fashion Show by Underprivileged Kids who walked the ramp along with Radio Mirchi RJ – Kshitij, Puja, Mohini and Virat.
The show was to draw attention towards the need for equal opportunities in terms of quality education and better standards of living for these kids. This platform provided by Max Fashion helped to enlighten the minds of others to think differently towards the society. The fashion show saw the launch of stylish, high quality and affordable Spring garments by Max.
Commenting on the launch, Piyush Sharma – AVP West, Max Fashion said, "We at Max Fashion believe in a simple formula 'Do fresh, think fresh'. We are happy to launch the Spring 2018 collection and now it's time to say goodbye to the dullness of winter and Hello to freshness! It was a delight to have the underprivileged kids walk for us - the talent out there is in abundance and we feel fortunate to have given a few of them a chance to experience the whole feel. This kind of sharing really needs to become a part of the fabric of society as it will help bridge the divide."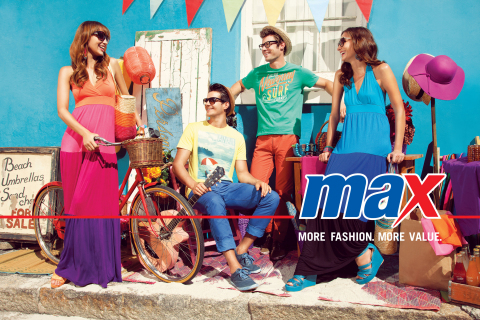 This collection honours the likes of those who are driven by a dream and not the society. Those who stand for what they believe in. Those who do not follow but lead. The Generation Z or post millennials.
About the Collection
This season Max Fashion aims to talk about the notion of no boundaries, freedom of expression and loving yourself. The key silhouettes of the season include exaggerated puff sleeve shirt, all-over smocked bardot top, printed bralette tee, printed mesh top with ruffle sleeves, strappy shoulder bearing top, mesh skirt, paper bag waisted pant, zip thru linen jacket, linen waistcoat, reversible casual vest, linen blend crew neck tees, and textured striper tees. 
WomenswearThis Spring, go subtle in terms of base and extravagant in silhouettes. Stripers take the limelight in shades of blue with white, treated with pop coloured surface embellishments in the form of hand embroideries & prints. Corset details, bed coat in hammered satin fabric, mesh long tops, bomber jackets and embroidery will be the key elements in the collection. Valiant poppy being the dominating colour, blending well with confetti (blush tone), empire yellow & mint leaf colours, the collection will simply put you under the spotlight. As the range is culturally rich with colours, black and white will be among the key accent colours.
MenswearThis season is all about combining the top trending looks. Longer lengths, asymmetric curved hems, panelling, double sleeves, printed ribs, detachable details and zippers are the key details. Graphic inspiration is drawn from the military camouflage, which is getting a street update. Embroidery, knee reinforcement pleats and patch badges bring texture and life to the range. 
Kidswear
BoysGet ready to roam the street in style. Spring '18 brings forth a rage of looks inspired from the streets. Speed and adrenaline rush from the daily hustle is captured perfectly with pocketful of fun elements. We've got everything ready for your high spirited naughty munchkins; cute little monsters, sailors, submarines, underwater creatures and animals having fun and much more are captured through insanely cool graphics. Badges, flap details, colour blocking, applique, HD prints, foil prints are some of the key highlights of the season. 
GirlsSpring talks about a lot of classic and retro inspired garments. A free-spirited collection with free flowing and airy silhouettes. A mix of colourful trims like tassels, pompom, beading application, 3D bows, crochet detailing and sequinned embroidery are some of the key highlights of the season. The colour palette comprises of pinks, blues, yellows, navy, red with lace, tulle and denim, giving the garments a beautiful texture.About Max FashionMax is a leading fashion brand, now available online at MaxFashion.com and on Android & iPhone apps offering customers a one stop shop for clothing, accessories and footwear needs for the entire family. Max, a fashion brand of Landmark Group has pioneered the concept of 'Latest fashion at great prices' in the country, thereby offering the discerning shopper a vast choice with international fashion & quality. It offers apparel, footwear & accessories that are of the latest fashion trends. The store ambience offers an international shopping experience making shopping for the entire family an absolute delight. Globally Max has over 400 stores across 16 countries and in India, Max has more than 200 stores across 80 cities.

2019 Hyundai Creta sees the addition of equipment

According to sources Hyundai has updated the popular Creta with more kit and a new range-topping SX(O)Executive trim. Prices for the refreshed 2019 Creta start at Rs 9.60 lakh (ex-showroom, Mumbai) for the base petrol E trim an increase of Rs 10,000 from the 2018 model. The E+ trim prices remain more or less unchanged at Rs 9.99 lakh for both the diesel and petrol variants. The diesel