Relationships are the essence of any festivity and it holds true for any Indian festival. Each occasion brings the family together which calls for a celebration. Raksha Bandhan is a celebration of one such relation with that of a brother and a sister. This relationship is nowhere as celebrated in India. Raksha Bandhan is a festival which celebrates the bond of affection between brothers and sisters.
The name 'Raksha Bandhan' suggests 'a bond of protection'. On this auspicious day, brothers make a promise to their sisters to protect them from all harms and troubles and the sisters pray to God to protect their brother from all evil. The festival falls on the Shravan Purnima which comes generally in the month of August.
Praying for her brother's long life sister puts a sweet in bhaiya's mouth. Brother reciprocates by presenting Rakhi Return Gifts to sister and promises to guard her against all hardships in life. This simple Rakhi ceremony symbolizes and strengthens the eternal bond of love between a brother and sister.
In today's scenario, the day has a different perspective. The occasion involves a pledge of life-time practice of moral, cultural and spiritual values. The values and the sentiments attached to the rituals of this festival are worth inculcating by the whole human race, the sentiments of harmony and peaceful coexistence.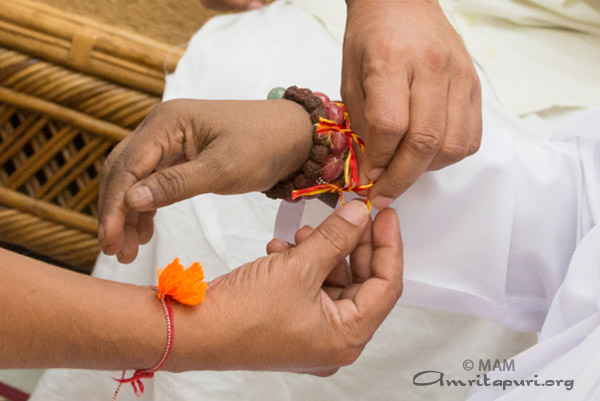 The festival of Raksha Bandhan assumes all forms of Raksha or protection, of righteousness and destroyer of all sin. The ritual of Rakhi tying has become so important that come what may, brothers and sisters try to visit each other place on this particular day in order to bring back the oneness of the family, binding the family together in an emotional bond of love.