Jumanji: Welcome to the Jungle is a fun-filled adventure flick, which was released at the end of 2017.Directed by Jake Kasdan, known for his adult flicks like Bad Teacher and Sex Tape, this movie, which had a screenplay by Chris Mckenna, Jeff Pinkner, Erik Sommers and Scott Rosenberg, is a part of the Jumanji Franchise. The first part, Jumanji, was released in 1995 and had Robin Williams playing the lead, and this movie, a sequel to the 1995 hit starred Dwayne Johnson aka Rock, Jack Black, Kevin Hart, Karen Gillan, Nick Jonas, Bobby Cannavale in vital roles. 
Jumanji : Welcome to the Jungle was set 21 years after the 1995 flick, and begins with the introduction four teenagers,Fridge - a football lover without academic interest, Spencer - a game lover, who writes Fridge's homework, Bethany - a self centered teenager obsessed with selfies and Martha - a shy girl who objects to attending the physical education class. The 4 youngsters are forced to enter the game world of Jumanji, as they are sent on a detention, and they accidentally find Jumanji game and get teleported. Now Spencer is transformed to a character named Smolder Bravestone, a strong and intelligent explorer, Fridge into a zoologist Franklin Mouse, Bethany transforms into a cartography expert Shelly Oberon, and Martha transforms to a sexy chic Ruby, a martial arts expert. 
They get to know their strengths and weaknesses, and also learn that their enemy in Jumanji happens to Russel van Pelt, who schemes to get hold of the Jaguar's eye. Now, the team has to get the Jaguar's eye with the lives they possess, and also place the eye on the Giant Jaguar statue and shout Jumanji, to complete the mission, foiling Russel's plans and escape back to real world. In the process, they also get to meet Alex, a 5h player who had been transformed to a pilot Jefferson Seaplane McDonough, who had been stuck in the game for 21 years, and he joins forces with them in their mission. How the team of 5 completed the game, destroying Russel's plans and returned safe to the real world, while also uniting Alex with his family which had been missing him for long, is what the movie is all about.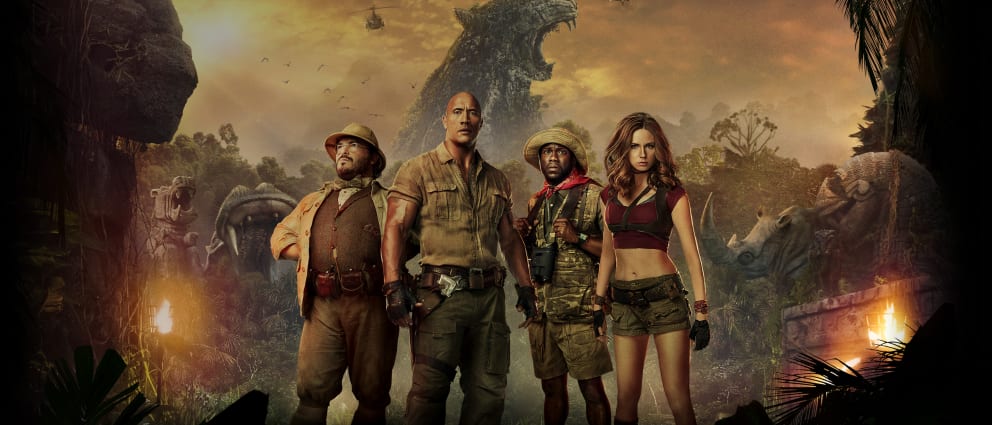 The film turned out to be an instant hit, thanks to the humor laced throughout the screenplay, and Dwayne Johnson's impressive screen presence, and complemented beautifully by the laughter riot dialogues and conversation involving the ever funny Jack Black and Kevin Hart. The film, released in December 2017, made on a budget of $95 million, turned out to be a huge blockbuster with worldwide collections of more than $950 million. It has been already announced that there will be another installment to the Jumanji franchise, and this movie will also be directed by Jake Kasdan, with Dwayne Johnson, Jack Black, Karen Gillan, making a return as the most loved adventurers. Take a look at Behind-The-Scenes photo featurette below,

Vikram Prabhu continues to face Failures

The grandson of legendary Tamil actor Sivaji Ganesan and the son of yesteryear successful hero Prabhu, Vikram Prabhu has been going through a tough phase of his career with pressure mounting on him to deliver as none of his recent outings have fared well commercially or critically.