Biopics on stalwart NTR has been a hot topic with either parties battling for supremacy in releasing the film.  Balakrishna starting his Venture NTR keeping Teja to take over the reins of direction and he to play the lead role .  While on the other side Ram Gopal Verma  Lakshmis NTR with the help of YSR Congress MLA who took the mantle of producing the film raked in Political debate over the subject by Telugu Channels to win over TRPs.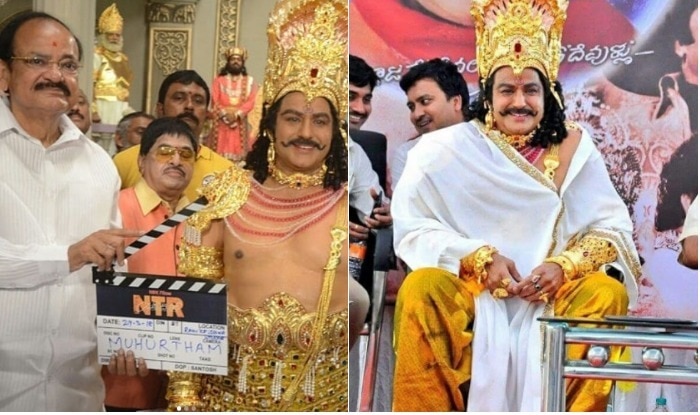 But after Teja walking out of the film due to few reasons, it was a daunting task for Actor Balakrishna to find in a director who can polish the Biopic of NTR after launching the film.  After a brief search talented director  Krish Jagarlamudi agreed to take up the responsibility of directing the sensitive subject and Balakrishna giving a nod to it.
Now the question arises out of fans mind is what will be the role of Nara Chandrababu Naidu be in the film, as Balakrishnas NTR will never depict dark shades of the present Ruling TDP Chief keeping  Elections-18 in mind.  RGV decides to shape the character of   #NCBN as the dark horse with negative shades that could tarnish the image of him and TDP party during elections. 
Lakshmi Parvati will be the real winner even with Positive and Negative shades shown in RGV and Balakrishnas Biopics on NTR with the publicity garnished on her.
If Both films are released Simultaneously the producers and distributors will be badly hit , Citizens will be undoubtedly confused over  the real characters, and controversies may erupt  inviting  disturbances in AP and a difficult task for the Governance to douse the fire.
The Saddest Part will be the assassination of the Legendary NTRs character and reputation among Indian Political Regimes of Outstanding Leaders.
If Justice has to be done to the films, Balakrishna can show the Biography of NTR up to  Successful Political Stint and his Noble Image in the hearts of Citizens. Now coming to RGV he should refrain from the film instead of giving it a political color and inviting rift between both political parties in the state.
You cant use the Image of the Legendary NTR on one side and  degrade the name of the Ruling TDP on other-side to win elections.
It is the People who decide upon choosing their Leader upon  noting the services rendered to them