Chandra Sidharth the talented and renowned director of Telugu Industry , who gave us memorable films that still haunt the audience for its much acclaimed concept. All are aware Aa Naluguru which made a hallmark in Telugu film Industry receiving the Prestigious Nandi award, Mind you this brilliant directors magic wand did produce magic in all his films be it Andharu Bandhuvayya, Madhumasam, Emo Guram Egaravachu.   Even though Chandra Sidharth  given few opportunities , he turned those opportunities in to Awards and showered sparks of brilliance on Telugu film Industry.
Chandra Sidharth presence went unnoticed even after serving as a Jury member for AP State Nandi awards from 2013-2015, Film fare Jury 6 times and South Indian Cinematographers Association awards as Jury Head.
After the advent of directors like Rajamouli, Koratala Siva, Boyapati Seenu who stormed the Telugu film Industry with hits, the producers deviated their stance towards them , leaving such a polished talent as Chandra Sidhartha in Lurch.   Excluding Rajmouli all the mentioned directors made impact and business only in Telugu Industry not alike Tamil and Hindi films which have large scale business globally and also attracting the viewers for  their thought provoking concepts..  
Films have no barriers of Language if a good concept is derived out of it.  Chandra Sidharthas  Aa Naluguru received acclaims globally and special mention by Stalwarts of different film industry's for its brilliance.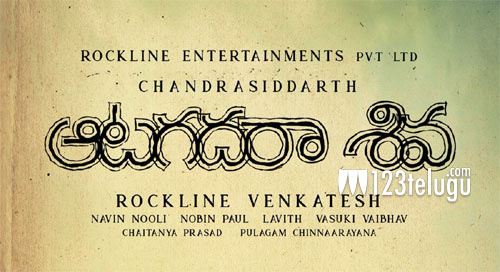 After a gap of 4 year Chandra Sidhartha under Rockline Entertainment banner is coming up with a different concept  ATAGADHURA SIVA the trailers already creating sensation among the viewers assuming the film to be a great hit .  The film entirely has new cast, new concept and fresh music that can keep the audiences glued to their seats.  The film will also remind  the Producers to believe in Talent and take Telugu film Industry to high esteem and not depend on  Business Trend by deceiving the hard earned money of the filmy viewers by producing stereo type concepts.
We have renowned directors who rely on big budget, huge star cast with unreliable themes that is costing the producers and distributors go confused in frustration.
It is high time directors Like Chandra Sidhartha who are left in dark be encouraged for the benefit of entertainment and elevating Telugu Film Industry to heights.