Reportedly Karnataka Chief Minister Yeddyurappa has reportedly asked former Chief Minister Siddaramaiah to vacate Cauvery, the government bungalow in Bengaluru's Kumara Park area, where he has been based for the last six years, after he served as the Chief Minister from 2013 to 2018.  Meanwhile the Department of Personnel and Administrative Services (DPAR) reportedly offered Siddaramaiah the option to move into Yeddyurappa's previously allotted bungalow at No 2, Race Course Road, in what will be a straight swap of accommodation.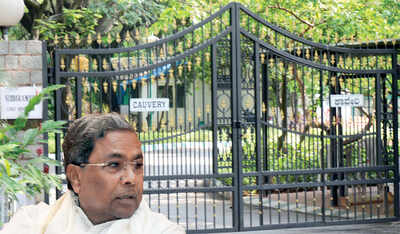 Furthermore officials said Yeddyurappa's intention to occupy Cauvery bungalow is due to his struggles in managing meetings at both Krishna (official office/residence of the CM) and his private residence in Dollars Colony. Perhaps Cauvery bungalow is located next to krishna bungalow and the two properties are divided by a small gate. 
However Siddaramaiah, is unwilling to leave the residence. When reacting to the news that his name board has been taken down at the bungalow and Siddaramaiah said "It is a government bungalow and I have to vacate it if I am asked to do so. What was the need to remove the name board?". Perhaps Yeddyurappa initially moved into the bungalow at No 2, Race Course Road, after taking charge as Chief Minister of the state since he considered it to be lucky for him and has been using it for the past three months.