New Delhi sources have stated that the battlefield over the Adani Group's controversial $16.5-billion coal mine in Queensland, Australia has shifted from the courts and on-ground protest sites to social media and the mining and energy project, which will open a new coal province in the Australian state of Queensland to feed Indian demand, has seen waves of protests from environmental groups concerned about the health of the country's Great Barrier Reef.
After receiving the Australian government's approval in 2014, over the last three years, the company has faced and won several court challenges. Last week the Adani group got a shot in the arm when Australian Prime Minister Malcolm Turnbull, who was in India on a visit, had promised to remove what is potentially the last legal challenge for Indian billionaire Gautam Adani.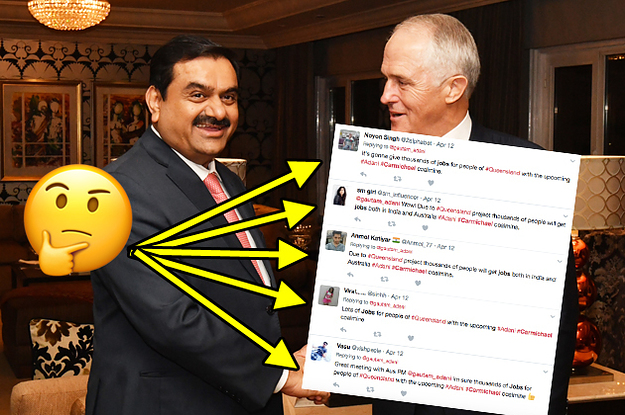 As per latest updates, sources have sparked an army of Indian twitter accounts that appear to be pushing out pro-mining, pro-Adani tweets.  On April 12, Adani had tweeted out a photo of him shaking Turnbull's hand, prompting a wave of tweets that heavily favored the company's mining project. The practice of hiring social media influencers to counter bad publicity has been seen a number of times over the last year in the Indian context. For instance, in the aftermath of the Modi government's demonetization move, a number of publications have documented how social media influencers were paid to spread positive messages about demonetization.

Meanwhile similarly worded messages are another example of an influencer-led Twitter marketing campaign. For instance, earlier this month, there were two sets of a large number of tweets that talked about how the Adani group never had problem with debt repayments, with similarly worded text. However, this isn't solid proof or evidence in either way, as many Twitter campaigns use similarly worded text and hash tags to quickly spread their message.