New Delhi sources have reported that ahead of Prime Minister Narendra Modi's visit to Switzerland for Davos summit, an international survey has ranked him among the top three leaders of the world. According to an annual survey by Gallup International has put Prime Minister Modi at number three among the global leaders.
Meanwhile as per the latest report the respondents in the survey, which was conducted among the people across 50 countries, had rated Prime Minister Modi ahead of China's Xi Jinping, Russian President Vladimir Putin, British Prime Minister Theresa May, Israel's Benjamin Netanyahu, US President Donald Trump among others.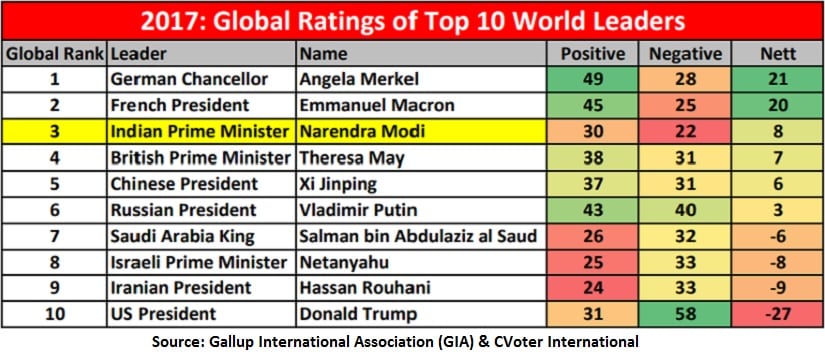 Further according to sources the top ranking in the survey went to German Chancellor Angela Merkel, followed by French President Emmanuel Macron. India's President, Vice President and many dignitaries have greeted PM Modi for this achievement. Moreover Prime Minister Modi will be on a two day visit to Davos, Switzerland, to attend the World Economic Forum (WEF) meeting between January 22 and 23.


SC appoints Ombudsman for Hardik & Rahul comments

According to sources Cricketers Hardik Pandya and Lokesh Rahul will have to wait longer to return to international cricket as the Committee of Administrators (CoA) asked the Supreme Court to appoint an ombudsman to look into the issue. Meanwhile with the Special Bench comprising Justices S.A. Bobde and A.M. Sapre deciding to adjourn the case till next week, the duo will not be able