Bengaluru sources added that HD Kumaraswamy crowned king by his archival Congress, like the BJP over 12 years ago, when his Janata Dal-Secular (JD-S) did not get the people's mandate to make him the Karnataka's Chief Minister. Accordingly the third son of former Prime Minister and JD-S patriarch H.D Deve Gowda, Kumaraswamy, 59, became Chief Minister on Wednesday after the Congress, defeated in the May 12 Assembly polls, offered the coveted post that has eluded him on his own steam.
Meanwhile with his JD-S just winning 37 seats a distant third behind the Congress (78) and BJP (104), he could not have imagined he would be heading a coalition government in the state again and moreover even before all the results were out on May 15, Congress leaders rushed to Raj Bhavan to inform Governor Vajubhai Vala of their unconditional support to the JD-S, with Kumaraswamy as head of the coalition government, in a desperate move to keep out of power the BJP, which emerged the single largest party but fell seven short of a simple majority.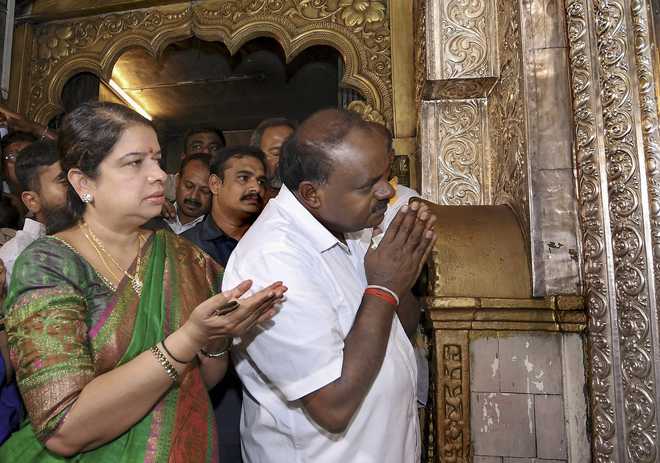 Furthermore hailing from the politically dominant Vokkaliga community, has a strong hold in the Mysuru region, Kumaraswamy, born in 1959 in Hassan district, entered politics in 1996, winning the Kanakapura Lok Sabha constituency and came into the limelight when his father became Prime Minister of the United Front government in June.


KCR in mindset to start National Party after Polls

Hyderabad sources reported that Telangana Chief Minister and Telangana Rashtra Samithi (TRS) President K Chandrasekhar Rao had launched his party's election campaign with a call for 'Congress and BJP mukt Bharat'. When addressing an election rally in Karimnagar, he blamed the two national parties for all the ills plaguing the country and underlined the need for an alternative to bring qualitative change in the national politics.