Singapore sources stated that Prime Minister Narendra Modi yesterday visited Hindu and Buddhist temples and a mosque in Chinatown here, demonstrating the age old people to-people contact between India and Singapore. Accordingly Modi, who is here on a three day tour, visited Sri Mariamman Temple and participated in prayers. Sri Mariamman is the oldest Hindu temple in the country.
Meanwhile the Ministry of External Affairs spokesperson Raveesh Kumar said the priest of the temple gifted a golden stole to Modi. "Reinforcing our strong cultural connect, PM @narendramodi visited the Mariamman Temple". Furthermore Modi also visited Chulia mosque which was built by Chulia Muslim merchants from India's Coromandal Coast under the leadership of Anser Sahib, which is one of the earliest mosques in Singapore. The mosque was established in 1826.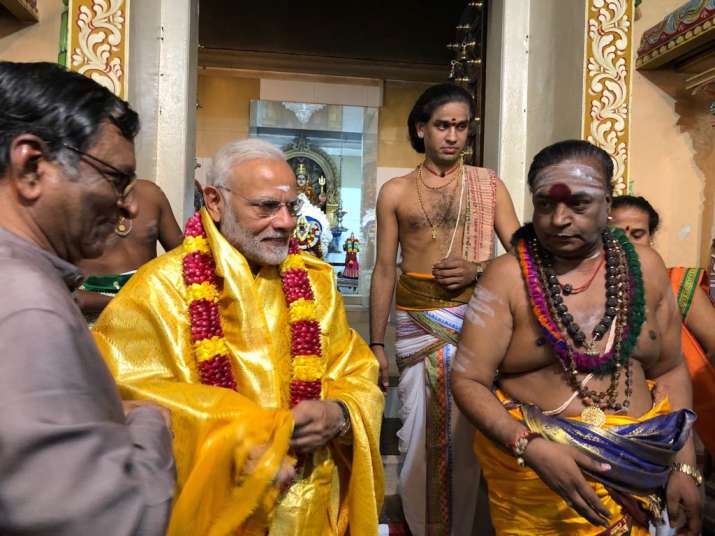 Moreover after visiting the mosque, Modi visited the Buddha Tooth Relic Temple and Museum. Further the temple gets its name from what the Buddhists regard as the left canine tooth of Buddha, which has been recovered from his funeral pyre in Kushinagar Uttar Pradesh and displayed in its grounds. As per report he also unveiled the Kala Sangam, a permanent platform established by High Commission of India, Singapore and Indian Heritage Centre, Singapore to bring Indian artisans to Singapore to demonstrate the craft, make and sell their products.

Telugu comedian Brahmanandam undergone bypass surgery

According to sources close to the family said here on Tuesday Iconic Telugu actor Brahmanandam Kanneganti underwent a heart bypass surgery at the Asian Heart Institute (AHI). Meanwhile he was rushed to the AHI Mumbai in a critical condition on Sunday and underwent several tests and was finally operated upon by renowned heart surgeon Ramakanta Panda on Monday.