With the prices of Petrol and Diesel skyrocketing, a Telangana resident has chosen a strange way to troll and tease the Indian Prime Minister Narendra Modi. Chandu Goud, belongs to Telangana's Rajanna Chirchila district. 
He had met the district collector Krishna Baskar, and has handed over a cheque of 9 paise. He has requested the collector to transfer the fund to Prime Minister's relief fund. Chandu Goud has expressed his anger over the reduction of Petrol price by 9 Paise, in this manner.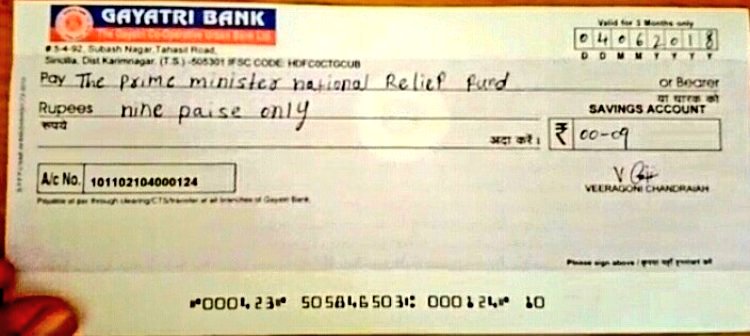 Due to the rise of Petrol and Diesel prices, farmers are facing a tough time, even unable to fill the fuels for their tractors and other farming equipments. Besides, the Telangana government has imposed a VAT of 32.5% on petrol and petroleum products. Hence the price petrol and other petroleum products are even higher in Telangana than neighboring states.


Soorasamharam Event held in a spiritual way at Tiruchendur

According to sources more than five lakh devotees witnessed the 'Soorasamharam' event on the sixth day of the 'Kanda Sashti' festival on Tuesday at Tiruchendur the second abode of Lord Muruga. Meanwhile the temple was opened for devotees in the wee hours of 1 am on Tuesday, following which 'Vishwaroopa Darshan' and 'Vijayamarthanda Abishegam' was performed at 1:30 am and 2 am respectively.