There are fans, there are admirers and there are devotees who follow and do anything for their idol, and Shib Shankar Patra falls in the 3rd category. The diehard football fan had done a strange thing recently. With his earnings from his tea stall, Patra wanted to watch the football world cup in Russia.
However he was informed by a travel agent that his 60000 rupees savings weren't sufficient enough to enable him watch the match in Russia. So he used the same money for a different purpose. He has painted his 3 storied building in Argentina color. As said by himself, he doesn't drink or smoke but is addicted to Argentina and Messi.

His tea stall is famous and one can easily find it by asking people as Argentina tea stall. Every 4 years, he paints his house in Argentina Colors and also has every room with a painting of Messi. Even his family members are fans of Messi, and they celebrate Messi's birthday every year.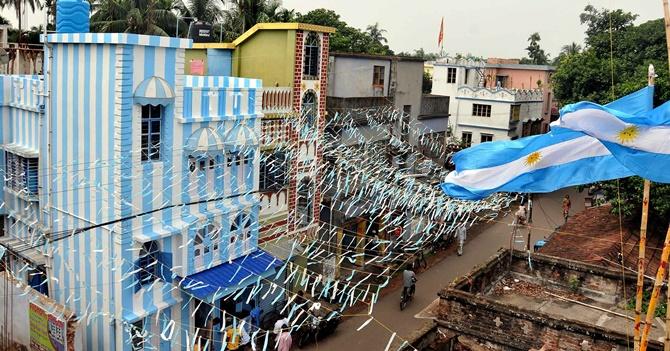 Spanish Royal Couple anchored by Trump

Washington sources reported that US President Donald Trump and First Lady Melania Trump hosted King Felipe VI and Queen Letizia of Spain at the White House. After arriving at the South Portico on Tuesday afternoon, the couples posed for a photo and then. As per report President said "It's a great honor to have the King and Queen of Spain and it's a beautiful country. We were in Spain not so long ago and we love it".