The Interpol has issued a Red Corner Notice (RCN) against fugitive diamantaire Nirav Modi with respect to Rs.13000 Crores Punjab National Bank fraud case.  Interpol also issued an RCN against Nirav Modi's brother Nishal Modi and his company's executive Subhash Parab in this scam.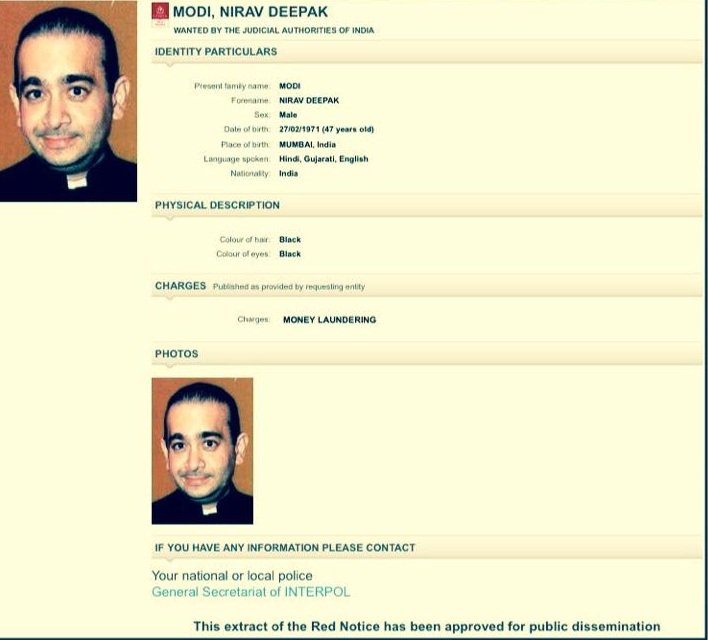 This RCN comes from Interpol after the Enforcement Directorate (ED) requested the Interpol to issue the notice against Nirav who is most wanted criminal in India for Money laundering case. So, this RCN means that it urges the countries to detain or arrest Nirav Modi who is most wanted in India.
As for now, Nirav is in the UK and he needs to be extradited as non-bailable warrants (NBW) are already issued against him. On the Interpol Website, they have put out his photo and also shared his other details. 

SC to hear 49 Review Petitions in Sabarimala Temple case

According to sources Supreme Court has agreed to hear 49 review petitions against its September 28 verdict allowing women of all age's entry into the Sabarimala temple. Meanwhile the SC announced January 22, 2019 as the date for an open court hearing, which is a hearing to which the public has a right to be admitted, on this issue. Furthermore it has also decided to hear fresh writ petitions on this issue in open court on the same day.