Jammu sources reported that a police official said the fifth batch of 4,047 pilgrims, including 808 women, yesterday left from here for the Kashmir Valley to pay obeisance at the 3,880 meter high cave shrine of Amarnath. Meanwhile as per report so far, 13,816 pilgrims had visited the cave shrine from the twin routes traditional 36 km Pahalgam track in Anantnag district and 12 km shortest Baltal route in Ganderbal since the commencement of the annual 60 day pilgrimage on June 28.
Further the official said the yatra is left in a fleet of 134 vehicles under tight security arrangements early today and are expected to reach Baltal and Pahalgam base camps in the valley later in the day. Moreover despite incessant rains which even posed a threat of flash floods in the valley, the yatra to the cave shrine of Amarnath in south Kashmir Himalayas commenced in the valley as per schedule on June 28 after several hours of delay but faced frequent disruptions owing to continuous rainfall, slippery condition of the tracks and shooting of stones and landslides.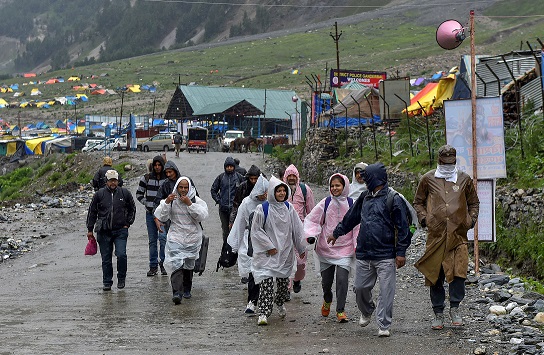 Media reports added a total of 13,816 pilgrims had paid their obeisance at the cave shrine, housing the naturally formed ice Shivlingam, till last evening. Moreover among them the highest number of 10,935 pilgrims visited the shrine yesterday.  Meanwhile the 60 day yatra is scheduled to conclude on August 26 coinciding with the 'Raksha Bandhan' festival.


Mahindra & Mahindra rolled out electric 3 wheeler auto rickshaw in Bengaluru

According to sources "The 3 wheeler range Treo and Treo Yaari are powered with lithium ion battery, which gives 170 km ride for a single charge, said Mahindra Electric Mobility Ltd Chairman Pawan Goenka on the occasion. Meanwhile the $21 billion Mahindra group has invested Rs 100 crore in setting up a technology plant in the city's southern outskirts, with an installed capacity of 25,000 units per annum to make the e-autos for Karnataka initially.