It was Rahul Gandhi who took the whole Parliament by storm. After facing numerous jokes on the Social media, he did a Superhuman feat on the parliament where he literally blew Indian PM Modi single-handed.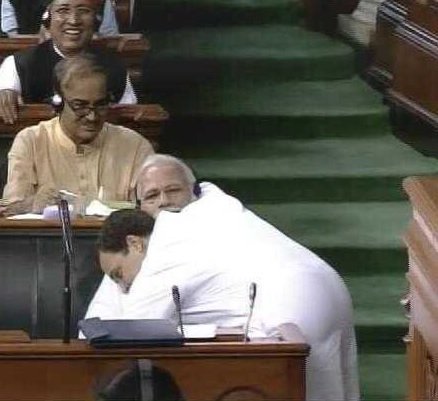 Rahul also gave a fat bear hug after his aggressive speech. Rahul Gandhi was completely on a flow as he started accusing BJP  and also the Defence Minister in the Rafale deal. Speaker Sumitra Mahajan asked Rahul Gandhi to control his emotions and said, "No, No this is not necessary...".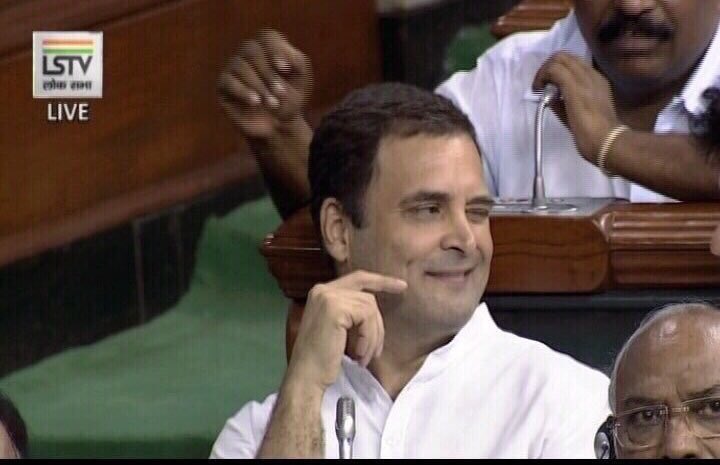 Rahul Gandhi's wink to his fellow party man also got attention and Twitter as usual responded with their memes and trolls. Now, we bring you some of the funniest compilation of the trolls and memes and you can take a look at them below,
Friend : Kal se daaru pakka band

Me : pic.twitter.com/OoZ1ERBlNk

— SAGAR (@sagarcasm) July 20, 2018
JUST IN: PM Modi to go on rehab for a day after Rahul hug #RahulHugsModi

— The UnReal Times (@TheUnRealTimes) July 20, 2018
Rahul Gandhi, Who Was Making Fun Of PM Modi For Hugging Global Leaders By Calling It As "#Hugplomacy", Today Followed His Step And Ended Up Hugging Him. 😂🤗🙏

Kahaan Se Laate Hain Itni Hypocrisy. 😂😂😂 #RahulGandhi #RahulHugsModi #NoConfidenceMotion pic.twitter.com/m5vKq0RLs7

— Sir Ravindra Jadeja (@SirJadejaaaa) July 20, 2018
Who did it better?#RahulHugsModi pic.twitter.com/elZvKNzt5E

— Ray Stings (@Purba_Ray) July 20, 2018
That was quick!!! #RahulHugsModi pic.twitter.com/fRFIAUd1di

— Radha Khan (@RadhaKhn) July 20, 2018
Today onwards , all my guests , after your heated arguments on the show, please hug me. Then I will wink back at you. #viewpoint #RahulHugsModi #NoConfidenceMotion

— bhupendra chaubey (@bhupendrachaube) July 20, 2018
The two most historic winks that rocked India. Surprisingly Modi was at the receiving end both times. Heartbroken both times. 💝#RahulHugsModi 😘 pic.twitter.com/j1xdaVn16z

— Suby (@Subytweets) July 20, 2018
Some winks take your heart! But some winks, take your life! #RahulGandhi #RahulHugsModi #RahulKiJhappi #NoConfidenceMotion pic.twitter.com/wXIxkZjZpB

— 9XM (@9xmHaqSe) July 20, 2018
Two hugs that took the PM by surprise. #RahulHugsModi #TripuraCM pic.twitter.com/ekkYRaeT9O

— T S Sudhir (@Iamtssudhir) July 20, 2018
Close enough 😂 pic.twitter.com/drjng9nqou

— Gautam Trivedi (@KaptanHindustan) July 20, 2018
When the person you hate has all the notes before exam pic.twitter.com/by33MmO7yf

— Abhijeet Bhatt (@foonyguy) July 20, 2018

Major Political Parties in Telangana gearing up for campaigning

Hyderabad sources reported that Telangana caretaker chief minister K Chandrasekhar Rao will kick-start his campaign addressing 28 public meetings which will cover 66 of 119 constituencies in the state. Accordingly United Progressive Alliance chairperson and former Congress party president Sonia Gandhi is expected to begin her Telangana campaign on November 23.