DMK supremo Kalaignar M Karunanidhi passed away today at the Kauvery hospital due to age-related ailments. He was 94, and had been in the hospital for the past 10 days, and passed away after treatment failed to save him. Now, following his death, the arrangements for performing the rituals and last rites are in full swing in his Gopalapuram residence.
Celebrities have tweeted and expressed their condolences and now we bring a compilation of all the tweets,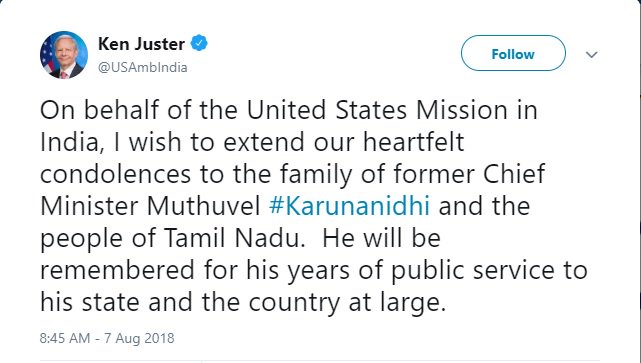 Deeply saddened by the demise of the iconic leader who ruled the people's heart for more than 5 decades. Today I saw two suns set #RIPKalaignar

— Harris Jayaraj (@Jharrisjayaraj) August 7, 2018
End of a legendary era. Heartfelt condolences. #RIPKalaignar

— Anirudh Ravichander (@anirudhofficial) August 7, 2018
We have lost one of the greatest leaders of our country. May his soul rest in peace. Strength and condolences to the family. #RIPKalaignar avarkal #ripkarunanidhi pic.twitter.com/cenGuQT4AA

— Vedhika (@Vedhika4u) August 7, 2018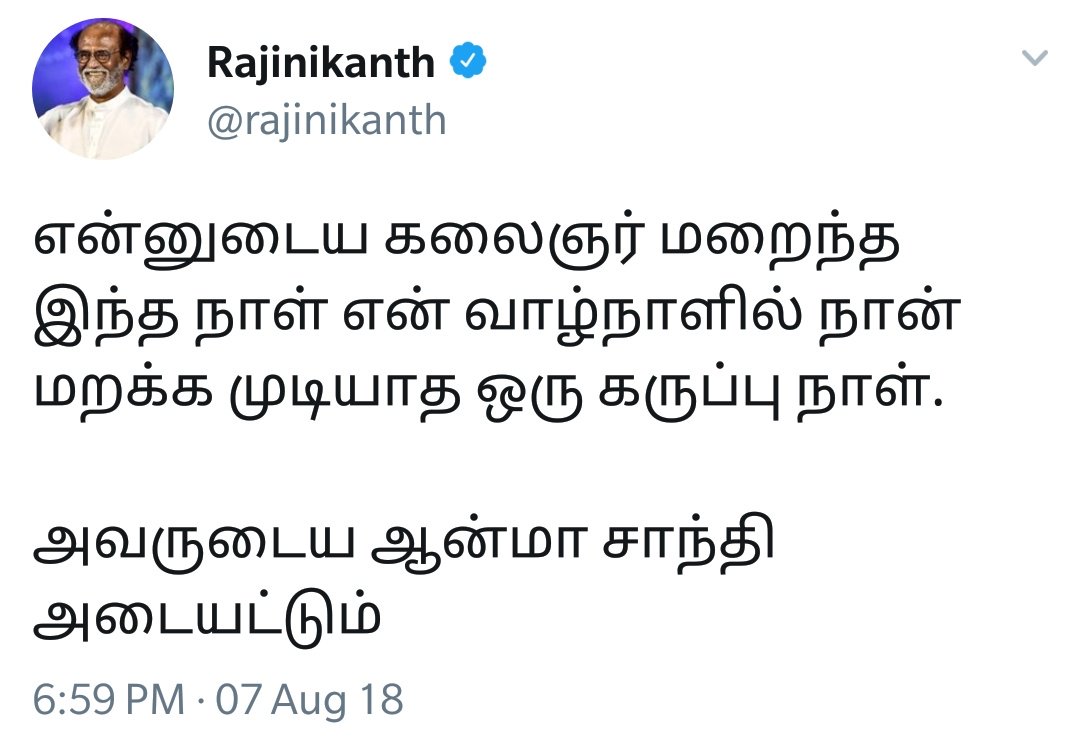 It's petty and small minded that AIADMK Govt will not give space at the Marina to bury #Karunanidhi. #RIPKalaignar

— Zakka Jacob (@Zakka_Jacob) August 7, 2018
#RIPKalaignar ayya😥remembering our first feast as couple with ayya at his home, thanks dhayaluamma 🙏Even in crowd he points out me and calls out my name... He said I'm pethi...ayyaa missing you so much pic.twitter.com/RKCunvoNo8

— Actress Harathi (@harathi_hahaha) August 7, 2018
A sun has set in Tamil Nadu today! His contribution to the language and the state is immeasurable. #RIPKalaignar 🦁💛 pic.twitter.com/D1NO5XQM8K

— Chennai Super Kings (@ChennaiIPL) August 7, 2018
Another era comes to an end #RIPKalaignar

— Trish Krish (@trishtrashers) August 7, 2018
End of another Era !!!
My heartfull condolences to his family,admirers & followers 🙏🏻
We will forever remember him for his years & years of public service towards our state 🙏🏻 #RIPKalaignar #Kalaignar pic.twitter.com/S89tajCHgN

— Nikki Galrani (@nikkigalrani) August 7, 2018
#RIPKalaignar Great leader and tamil writer #karunanidhi ayya !
Will be remembered forever.. pic.twitter.com/gTZzLg9YKr

— M.Sasikumar (@SasikumarDir) August 7, 2018
With profound grief I have learnt about the loss of our beloved Kalaignar Dr M Karunanidhi one of the best leaders the country has ever witnessed. I hope God gives courage and hope to the family member and fellow Tamilians to cope with this huge loss #RIPKalaignar

— Hansika (@ihansika) August 7, 2018
My condolences to his admirers, supporters and his family .. #RIPKalaignar

— Pranitha Subhash (@pranitasubhash) August 7, 2018
In Kalaignar's unfortunate demise. I have lost a long trusted friend/guardian and the nation has lost one of the greatest fighter for social justice. My deepest condolences to family members and his associates. #Karunanidhi #RIPKalaignar

— Lalu Prasad Yadav (@laluprasadrjd) August 7, 2018
This video 💔 heartbreaking..
.#RIPKalaignar pic.twitter.com/49zmM8HtVf

— Iswarya Menon (@Ishmenon) August 7, 2018
It's an end of an era in Indian politics. Karunanidhi's life will always remain synonym to equality & social justice. What he has done for Tamilians will be remembered by the generations to come. Kalaignar, you inspire us all! #RIPKalaignar #RipKarunanidhi #Karunanidhi pic.twitter.com/LX9knvo4Xb

— Gaurav Pandhi (@GauravPandhi) August 7, 2018
An era of politics , an era of leadership an era of writing ... #Kalaignar #karunanidhi #ripkalaignar #ripkarunanithi pic.twitter.com/7HNYrFEFet

— G.V.Prakash Kumar (@gvprakash) August 7, 2018
End of a legacy #RIPKalaignar 🙏🏻

— Gutta Jwala (@Guttajwala) August 7, 2018
Deeply saddened to hear the demise of Kalaignar M. Karunanidhi. A strong leader, a great writer and a simple human being. You will be missed sir! #RIPKalaignar pic.twitter.com/2CwPFmlyiY

— Nivin Pauly (@NivinOfficial) August 7, 2018
Saddened by the death of Tamilnadu former Chief Minister and icon of social justice M.Karunanidhi.
My deepest condolences to the family of M. Karunanidhi. Great loss for the nation and especially for Tamilnadu #RIPKalaignar @INCKarnataka pic.twitter.com/x4VoHLSCQ5

— Siddaramaiah (@siddaramaiah) August 7, 2018
Rest in Peace Kalaignar Karunanidhi - a Leader by all means. Your contributions to the welfare of Tamil language and Tamilnadu will speak across generations. The SUN will shine in our hearts always. #Karunanidhi #RIPKalaignar #கலைஞர் #KauveryHospital

— Parvatii (@paro_nair) August 7, 2018

Will Gajwel people make KCR win?

Accordingly despite the predictions of various surveys which indicated a TRS wave in Telangana, the ground reality seems to be different. As per report in many of rural parts of Telangana, there is anti-incumbency against the ruling government and this may make it difficult for TRS and even in Gajwel constituency, represented by KCR himself, said to have a tough fight in the coming elections.