Hyderabad sources stated that Hyderabad Police have imposed traffic curbs in certain parts of the city for Eid-uz-Zoha or Bakrid, in order to regulate the flow of vehicular movement. Meanwhile the restrictions will be in place on Wednesday in the forenoon mainly from 8 am to 11.30 am. Furthermore the traffic proceeding towards Idgah-e-Mir Alam from Puranapul, Kamatipura and Kishanbagh will be directed through Bahadurpura intersection.
As per report parking will be permitted on one side of the road with parking space inside the zoo park, as well. Moreover vehicles from Shivrampally will be routed through Danamma Huts crossroads. Parking spots in designated places will be permitted. However regular traffic, will be directed towards Shastripuram and NS Kunta from Danamma Huts. Moreover parking space will be available at Jayesh parking, Modern Saw Mill and Yousuf parking facing the Idgah road, as also the filter bed of Mir Alam.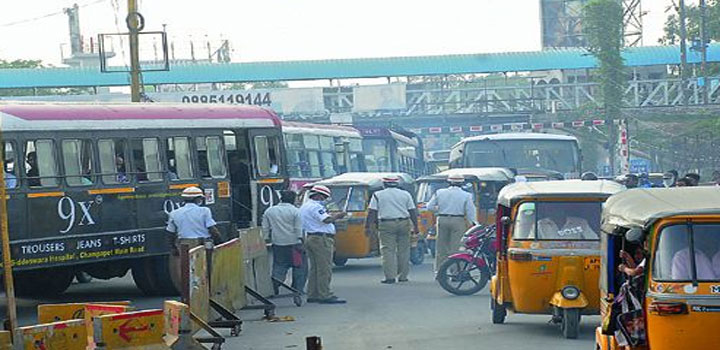 Accordingly the traffic coming from Kalapathar will be directed through the Kalapathar Police Station route and hence regular traffic will proceed through Mochi Colony, Shamsheergunj, Bahadurpura and NK Kunta. Parking space has been earmarked at Modern petrol pump, BNK Colony and Bhayya parking and so additionally, parking will be permitted on one side of the road. Further in Secunderabad, vehicular traffic coming from CTO intersection will be directed towards Tadbund at the Secunderabad Idgah point.


Rahul Gandhi slams PM Modi & Anil Ambani in Rafael Deal

Accordingly Congress president Rahul Gandhi said probe into the procurement of Rafale fighter jets from France would throw up names of Prime Minister Narendra Modi and Anil Ambani. When addressing a campaign rally here for the second phase of Assembly polls, Gandhi also claimed the NDA government bought the planes at Rs 1,600 crore a piece as against the Rs 526 crore for each aircraft fixed by the Congress led UPA government.