Bhopal sources stated that Congress ticket aspirants in Madhya Pradesh will be evaluated on their use of social media with the state Congress sending a missive that they should have a Facebook page with 15,000 likes, Twitter account with 5,000 followers and WhatsApp group of booth workers in their neighborhood. Accordingly the directions have been conveyed by the state Congress in a letter which refers to steps being taken by the Congress to improve its social media outreach.
Meanwhile the letter says that aspirants for party tickets in the Assembly polls later this year will be evaluated for their use of social media and it also spells out the criteria for judging the activeness in using social media. The letter said "Having Facebook page and twitter account is mandatory. Being active on WhatsApp is mandatory and it is mandatory to have 15,000 likes on the Facebook page, 5,000 followers on Twitter and having a WhatsApp group of booth members in the neighborhood".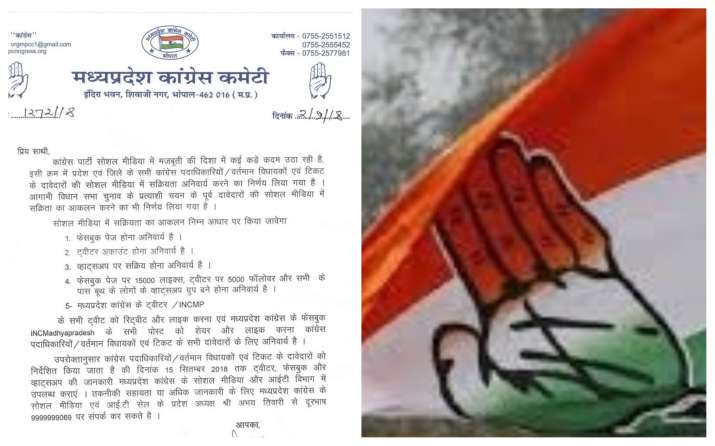 Moreover Party spokesperson Shobha Oza said that social media activity was not the only criteria for ticket selection but the party wants those contesting the election to use it extensively. Shobha said social media was used by the Bharatiya Janata Party (BJP) in the last election to take its "jumlas" to the people and the party could not counter it effectively.