Hyderabad sources reported that KCR said "political fragility" in the state was the reason for the recommendation for early dissolution of the Assembly and early elections. Meanwhile he decided to approach the people's court to curb the ever increasing political fragility and the "unlimited idiocy" of the opposition.
Accordingly the TRS chief alleged that this political fragility was created by false and baseless allegations by the opposition against his government. Furthermore he defended the decision for early dissolution of the house, saying it was taken for the "bright future of Telangana". "Let people take a call. Why should anybody else? He sacrificed his full term for the sake of the people of Telangana, to maintain steady growth of the state and to protect the state from bloody fragility."
Moreover he lashed out at the main opposition Congress for allegedly trying to create hurdles in the path of development and denied he was moving closer to the BJP. "TRS is 100% secular and will remain secular." Further KCR said he met Prime Minister Narendra Modi as Chief Minister of a state. Moreover he also said that the Majlis-e-Ittehadul Muslimeen(MIM) will remain a friendly party for TRS and did not rule out a friendly contest with it in some constituencies. Meanwhile the Congress, BJP, TDP and other parties have criticized KCR's move and the BJP termed it undemocratic. Further R.C. Khuntia, who is in charge of Congress affairs in Telangana, said by going for early polls, KCR himself declared the end of KCR era.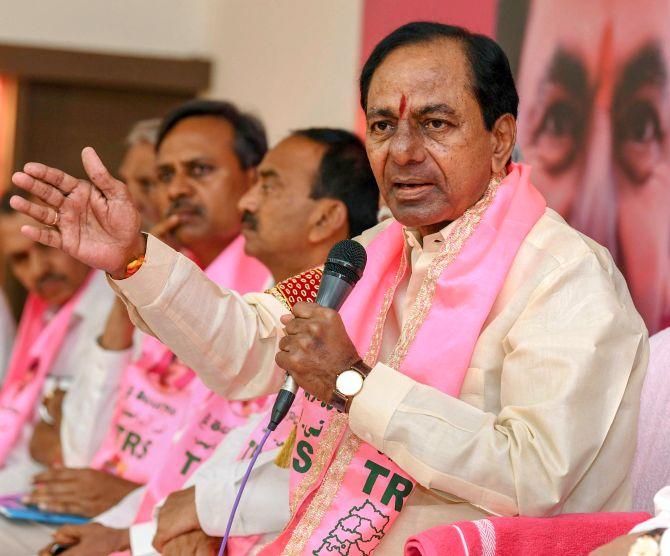 Infosys founder supports Modi!

With the 2019 general elections scheduled to be held in less than 6 months, Infosys cofounder Narayanamoorthy has said that Modi government has been fighting against corruption, and that giving Modi another chance will help the nation. During a media interaction, when he was asked regarding the ongoing tussle between govt and RBI, he said that such organizations should be strong enough to face tough situations.