Furthermore when responding to Pawan Kalyan's allegations, TDP's Denduluru MLA Chintamaneni Prabhakar has given befitting counter. Meanwhile he has organized a first media conference in his long political career to counter Pawan's allegations. Further when quashing Pawan's comments as baseless, Chintamaneni said he is ready for any probe or open inquiry against him.
Hence stating that Pawan's allegation that he is raising as law to unto himself, Chintamaneni asked Pawan to come up with the bases and proofs before making such allegations. Moreover Denduluru MLA said he met CM Chandrababu Naidu and asked him to constitute a 3 member committee against him to look into the allegations against him. Chintamaneni said if CM constitutes a committee it would again be dubbed as political. Moreover in a straight question to Pawan, Chintamaneni has asked whether Pawan Kalyan is ready for this.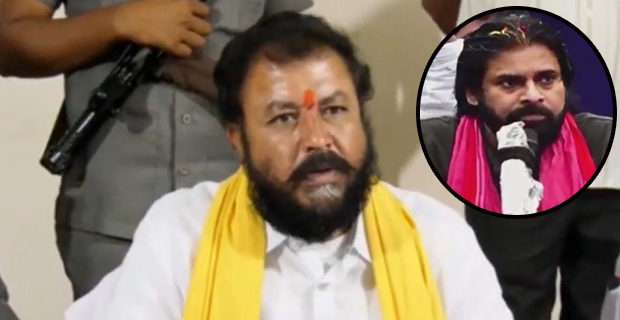 Further Chintamaneni said he would appreciate if Pawan would do proper research and bring his mistakes to notice and he said he would like to correct himself. Meanwhile when explaining case by case and name by name, Chintamaneni said all the allegations of Pawan have no truth and moreover he questioned whether Pawan is supporting wrong doers.


Appreciation certificate for first voter by EC in Madhya Pradesh

In an innovative move by EC today issued a certificate of appreciation to first voter of the day in Chitrakoot district of Madhya Pradesh. Bypolls for assembly elections are undergoing in the state. Election commission of India initiated a novel way to encourage the voters to exercise their franchise enthusiastically, they issued a certificate of appreciation to first voter in Manikpur polling booth in Chitrakoot district of Madhya Pradesh. Uma Shankar was the first voter in the morn