Abu Dhabi sources reported that Mohammed Kunhi Mayyala, who hails from Kerala and is currently working as a salesman in the capital, was declared the latest winner of Big Ticket Abu Dhabi's "Super 7 Series" draw on Wednesday. As per report Mayyala joins a long list of expatriates who turned multi-millionaires overnight after betting on the popular raffle draw. Meanwhile he said he was surprised to receive a call from the raffle organisers and initially thought it to be a prank.
He said "He could not believe it and he thought it's just a fake call but it was his lucky day," adding that he will use part of the money for the treatment of his friend whose kidneys have failed. Furthermore he said he will spend rest of the money for renovating his house in Kerala and start a business. Meanwhile the winner in September also hailed from India and won 12 million dirhams through the monthly jackpot draw.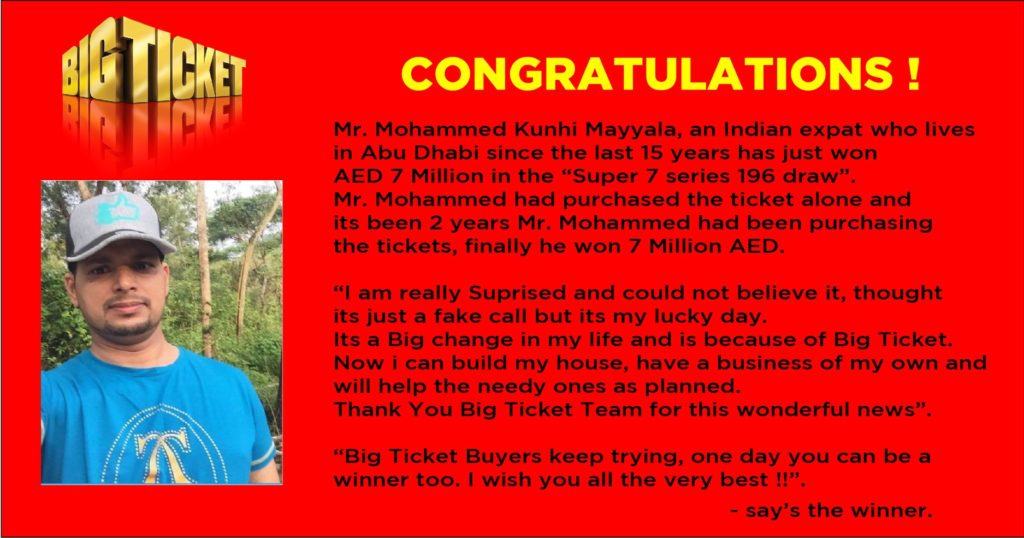 Moreover aside from Mayyala, seven other Big Ticket participants won a cash prize of 100,000 dirhams each. Accordingly four of the minor prize winners were from India, two from Pakistan and one was from Kenya. Further big Ticket is the largest and longest running monthly raffle draw for cash prizes and luxury cars in Abu Dhabi.


BJP made scrapping of Article 370 its main talking point in assembly elections in Haryana & Maharashtra

Sources from Pune stated that Prime Minister Narendra Modi, who was addressing a rally in poll bound Maharashtra's Pune district on Thursday, made a surprising gesture to his audience while speaking on his government's recent decision to scrap Article 370, which granted special status to Jammu and Kashmir. Meanwhile as the crowd cheered for him, he halted his speech, stepped aside from the dais and bowed before the public twice.