Colombo sources stated that former strongman Mahinda Rajapaksa Monday assumed charge as Sri Lanka's new Prime Minister after the surprise sacking of his predecessor Ranil Wickremesinghe by President Maithripala Sirisena which plunged the island nation into an unprecedented political crisis. Meanwhile officials from his Sri Lanka People's Party (SLPP) said Rajapaksa assumed the duties in the prime minister's secretariat which was not used by the ousted Prime Minister Wickremesinghe.
As per report Sirisena on Friday night sacked Wickremesinghe and appointed Rajapaksa as the new prime minister in a surprise move that is being debated as a constitutional coup. Furthermore Sirisena also suspended parliament till November 16 after Wickremesinghe sought an emergency session to prove his majority. Earlier on Sunday, Sri Lankan Parliament's Speaker Karu Jayasuriya recognized Wickremesinghe as the prime minister.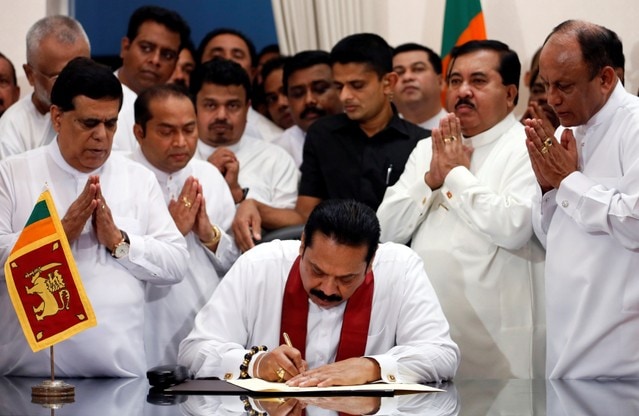 Moreover Wickremesinghe continues to remain in his Temple Trees office cum residence of the prime minister. Accordingly Rajapaksa in his statement last night called for a snap parliamentary election to end the impasse. Hence the UNP said they rejected all personal allegations made by President Sirisena against Wickremesinghe.