Sources from Raipur stated that an entire village in Chhattisgarh assembled to bid an emotional adieu to a crocodile, whom they used to worship as their protector, after the animal died. Meanwhile for residents of Bawa Mohtara village in Bemetara district, the around 130 year old crocodile, whom they had fondly named as 'Gangaram', was next to God.
Furthermore after the reptile died in a village pond, the grief stricken residents took out its funeral procession and did not cook food that day. Reports added they also decided to set up a memorial on the pond's bank where it was buried, sarpanch (village head) Mohan Sahu told, adding that they were also thinking of constructing a temple in its memory. Accordingly the 3.4 meter long crocodile was found dead on Tuesday in the village pond, located around 80 km from here, following which locals informed the forest department and the carcass was taken out of water.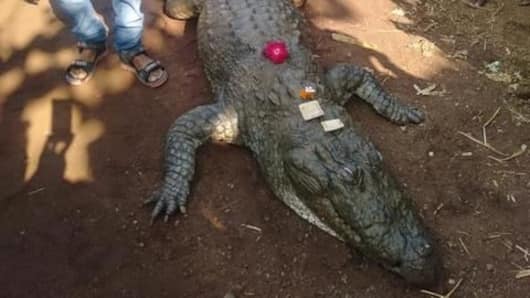 Moreover around 500 villagers took out its funeral procession and performed the last rites. They touched the carcass to seek its blessings. He said "The villagers had so much affection for the reptile that many of them did not even cook food the day it died. Locals had long back named it 'Gangaram'. They used to worship it as a deity and the protector of the village". Sinha said "After getting information about its death, the forest personnel went there and a post-mortem was conducted by veterinarians".

Indian Railways linked its locomotives via ISRO satellites

According to sources the Indian Railways has linked its locomotives via ISRO satellites, making it easy to track trains and automatically feed the control charts about the trains arrival and departure. The officials said "A new beginning has been made in the new year: the train movement information is acquired and fed to the control charts using ISRO (Indian Space Research Organization) satellite based real time train information system (RTIS) automatically".