The fact that Briyani was served as prasadam in Madurai muniyandi temple has angered north Indian Hindus who have registered their anger over Twitter with numerous tweets on their accounts. Tamilnadu has been unique in various aspects especially in terms of temple celebrations and the offerings to deities.
Especially, usually there's no habit of serving non vegetarian prasadam in Hindu temples all over the country. However in Tamilnadu in ancestral temples of Tamils, non vegetarian food will be served as offering and prasadam. In several temples even alcohol will be given and served to God as well as later given to devotees as prasadam.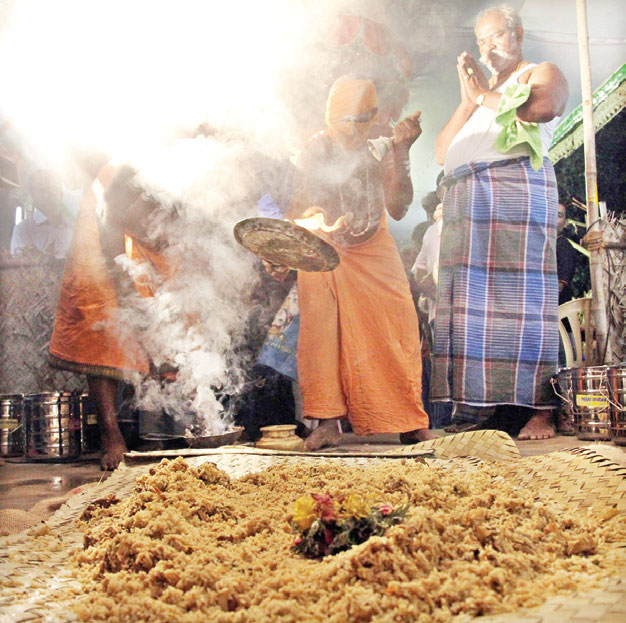 Recently in a temple of Muniyandi at Vadakkampatti in Madurai, non vegetarian Briyani was given as prasadam and this had been happening for 84 years, with 1000 kg rice, 250 goats and 300 chickens. Following this many North Indians tweeted to stop this saying it's against Hinduism and said not to call it as prasadam. However it's an irony that even in several Shakthi temples in North India, non vegetarian prasadam is given. 

Seven Crore Public Money Siphoned Off in Praja Vedika?

Upon the orders of Chief Minister YS Jagan Mohan Reddy, the officials have started the demolition of Praja Vedika a building constructed during the tenure of former Chief Minister N Chandrababu Naidu in Andhra Pradesh's Amaravati. The building is illegal constructed violating the Krishna River norms.