Reportedly Bengaluru's traffic snarls are infamous and motorists have tried (and failed) to get around it. Presently police have apprehended one man for allegedly using an ambulance to ferry office-goers during peak traffic hours ago and the ambulance was meant to serve a leading real estate company. Meanwhile, the accused Bala's driving license has been suspended and he has been slapped with a fine of Rs 600.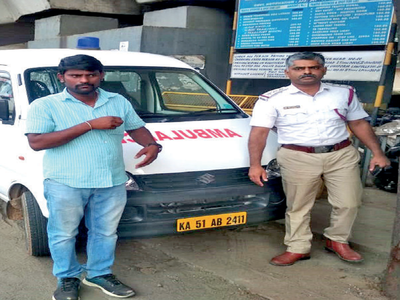 Furthermore, the incident came to light after one unsuspecting motorist, Rana Patel, had given way to the ambulance on March 27. Apparently, he later noticed that there were many passengers inside the ambulance dressed as if they were going to work. Moreover, Rana detailed his experience on the Bengaluru City Police Facebook page. He also posted photos and videos of the ambulance passing near Agrahara Layout in Yelahanka.
Perhaps the officials of the Bengaluru Traffic Police commented on the post and said that they would take necessary action. MA Saleem, a traffic management expert and a retired IPS officer said, "This is not very unusual. Reports added the police have started doing drives against ambulance drivers due to rising incidents. We get complaints of them being misused. We have seen them used to ferry school children early in the morning." He added, "During drives, it has also been found that sometimes ambulance drivers are drunk. But otherwise, we cannot take criminal action against them. We cancel their licenses as per the Motor Vehicle Act."

Namo channel disappears from all TV the very next day after the Elections!

The Lok Sabha elections ended finally and now all eyes are on May 23rd as the vote counting begins. Exit Polls have predicted an easy win for BJP once again. There are lots of complaints against BJP as they have never followed any rules imposed by the EC. One among the complaints was on NaMo TV.