Reportedly in the light of the recent assault on doctors in kolkata, doctors across the nation have joined nationwide protest on Friday to demand protection for doctors. Meanwhile the Indian Medical Association has now called for a nationwide strike protesting the attack on a doctor in kolkata. The proposed strike is to happen on Monday, June 17.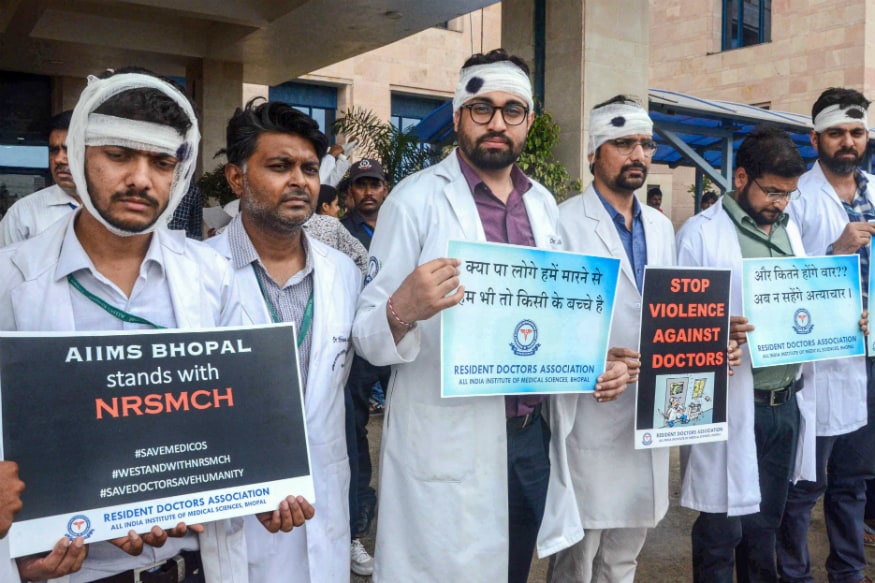 Recently thousands of patients in the national capital were hit after doctors at AIIMS delhi halted service. Furthermore Maharashtra Association of Resident Doctors (MARD) also joined the protest in support of their counterparts in kolkata. Apparently members of the Indian Medical Association, Trivandrum, also held protests over violence against doctors in West Bengal. Doctors from various medical institutions in Telangana joined the nationwide protest demanding justice and protection to them in the wake of the recent assault on doctors in kolkata.
Moreover condemning the violence against doctors in kolkata, Union health Minister Harsh Vardhan urged patients and their attendants to exercise restraint. Further Harsh Vardhan said he would take up the matter of doctors' security with all chief ministers and asked doctors to ensure that essential services to people are not disrupted. Dr Harsh Vardhan appealed to West Bengal Chief Minister to not make this an issue of prestige. The health Minister said "mamata banerjee gave doctors an ultimatum, as a result they got angry and went on strike. Today, he will write to Mamata Banerjeeji and will also try to speak to her on this issue".

World Bank withdrew from Amaravati due to Corruption, say AP officials

The World Bank has decided not to fund Amaravati Sustainable Capital City Development Project, the ambitious project of former Andhra Pradesh chief minister Chandrababu Naidu. The World Bank's Website marked the project as 'Dropped'. The total project cost was USD 715 million with the World Bank planning to provide a loan of USD 300 million.