Idol of the deity is not in the centre

The idol of Lord Tirupathi Balaji placed may appear to be standing in the centre of the sanctum sanctorum, but technically, it is not so. The idol is actually placed in the right hand corner of the shrine.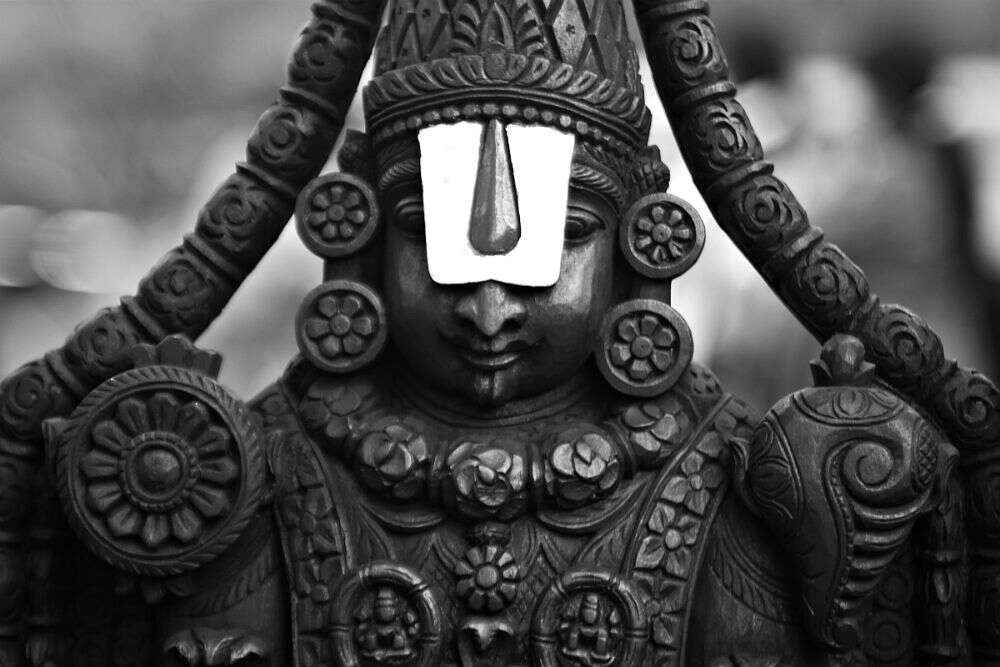 Real hair of Balaji

The hair worn by Lord Balaji is silky, smooth, tangle-free, and absolutely real. The story behind those faultless locks goes like this Lord Balaji, during his regime on earth, lost some of his hair in an unexpected mishap. A Gandharva Princess named Neela Devi quickly took note of this incident, and cut a portion of her glorious mane. She offered her chopped locks humbly to the deity and requested him to plant them on his head. Pleased with her devotion, the god accepted the kind offering and promised that whoever visits his shrine and sacrifices his/her hair at his feet will be blessed. 
Idol survives strong chemical reaction

It is a scientifically known fact that when raw camphor or green camphor (Pachai Karpooram), a derivative of Cinnamomum camphora tree, is applied on any stone, it leads to cracks and fissures on the object. The idol of shri tirupati balaji, however, is resistant to the volatile chemical reactions of camphor, and bears no marks, even though it remains smeared with the substance most of the time.

Never do these things during Diwali week

Even though you should get up early every day, on Diwali day, it is especially auspicious to wake up early, preferably before sunrise those who keep on sleeping till late on Diwali will not be blessed with the divine blessings of Laxmi. Don't keep the house dirty This one is a no-brainer. You should always keep your house clean during the Diwali week. Make sure that your house smells great this Diwali and there is no garbage lying around.