According to sources in a nail-biting thriller match of the World Cup semi-finals, new zealand has defeated india by 18 runs. india which was chasing 240, runs in 50 overs, was finished for 221 in 49.3 overs. Meanwhile the poor show of india's top order was the crucial reason for india's defeat. Since india depends on its top order usually, it did turn highly difficult for the lower order to cope up and rescue the team.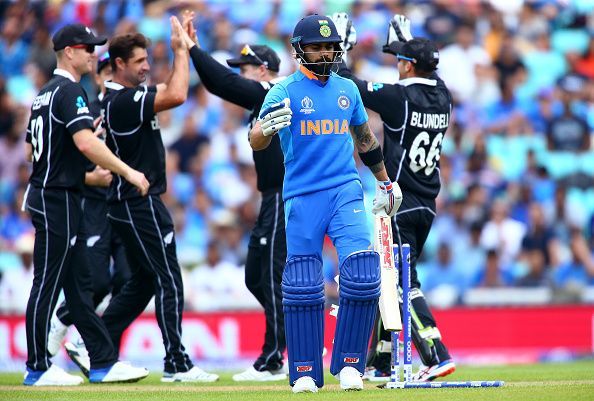 Furthermore unable to understand new zealand's bowling and fielding strategy was the one of the reasons for the failure of Team india. Although the middle order of Team india did put a brave effort and gave a respectable show, but by then the damage has already been done. Reportedly even under pressure, new zealand did perform quite well be it in bowling or fielding. Saving boundaries, taking wickets with terrific catches and run outs, new zealand hadn't left any option to defeat Indian team that was favorite in the World Cup.
Moreover Jadeja's crucial 77 runs in 59 balls and ms dhoni's 50 runs brought the hopes in india's fans and the Jadeja's catch out and Dhoni's run out have poured the cold water on the hopes of cricket enthusiasts. Perhaps Bhuvneshwar Kumar's duck out has added to india's woes at the end. And Chahal's catch out to the wicket keeper ended the india's innings in the World Cup 2019. Captain virat kohli's face was saddened with the defeat. new zealand's all-rounder performance has confirmed its berth in finals. Terrific bowling, flawless fielding from Kiwis has shattered india's World Cup dreams.