It is one of the easiest quickest and most delicious things to do with rice – freshly made or leftover from last night's dinner. Cooked rice tossed in a tangy tempering of whole and powdered spices, crunchy peanuts, fresh coconut and plenty of lemon juice.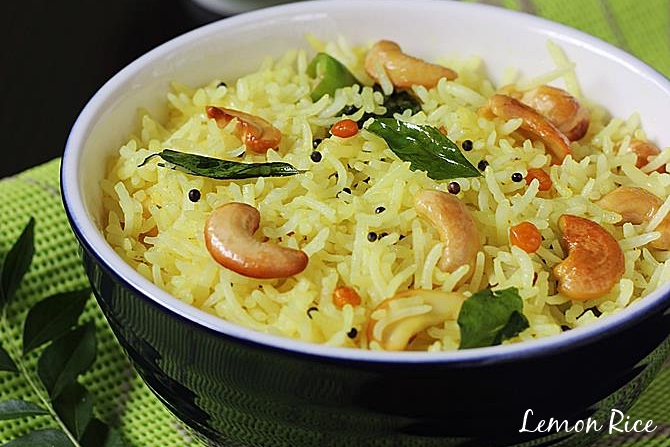 Prep Time : 16-20 minutes
Cook time : 11-15 minutes
Ingredients for Lemon Rice Recipe
Rice boiled

 1 1/2 cups

Lemon juice 

3 tablespoons

Oil 

2 tablespoons

Mustard seeds 

1/2 teaspoon

Asafoetida 

a pinch

Fenugreek seeds (methi dana) 

1/2 teaspoon

Split black gram skinless (dhuli urad dal) 

1 tablespoon

Curry leaves 

10-12

Whole dry red chillies broken

 2

Turmeric powder 

1/2 tablespoon

Peanuts 

1/2 cup

Salt 

to taste

Coconut fresh scraped

 2 tablespoons
Method
Step 1
Heat oil in a kadai. Add mustard seeds, hing, methi, urad dal and sauté till the dal turns golden.
Step 2
Add curry leaves, broken red chillies, turmeric powder and peanuts and continue to sauté. Add rice and salt and mix. Add lemon juice and mix well.
Step 3
Cook on low heat till the rice gets heated through. Garnish with coconut and serve hot.
Nutrition Info
Calories : 2010
Carbohydrates : 265.6
Protein : 50.3
Fat : 82.7
Other : 15.4gm

How to make Cheesy Seekh Kabab

How to make Cheesy Seekh Kabab Ever wondered why the phrase "say cheese" is used just before a photograph is clicked? Simply because 'cheese' makes one smile! Not only the word but cheese as a food makes a lot of palates happy. It is an inexpensive, versatile and nourishing food.