Be a kid or a teenage or an adult or an oldie, chicken lovers trend all over the world at all times! One meat that is a favourite of all beyond belief! When cooked, it can be presented in many guises. Sauté it, fry it, toss it, bake it, steam it – eat it the way you want to. Whatever its form may be upon being cooked, its flavour may change but its flesh remains high in protein, low in fat and can be digested easily.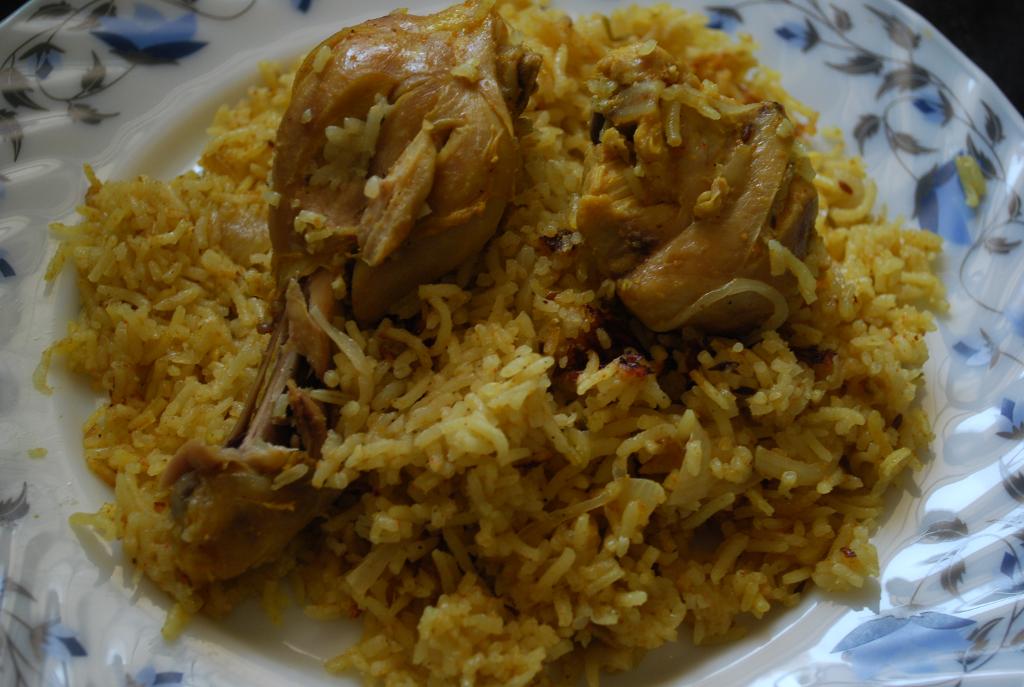 Prep Time : 26-30 minutes
Cook time : 31-40 minutes
Ingredients for Quick Chicken Pulao - SK Khazana Recipe
Chicken cut into 1 inch pieces on the bone

 750 grams

Basmati rice soaked for 30 minutes and drained

 1 1/2 cups

Oil 

1 tablespoon

Bay leaves 

2

Cinnamon broken

 1 inches

Cloves 

4-5

Green cardamoms 

2-3

Black peppercorns 

8-10

Medium onions sliced

 2

Tomato finely chopped

 1

Salt 

to taste

Ginger-garlic paste 

2 teaspoons

Turmeric powder 

1/4 teaspoon

Red chilli powder 

1 teaspoon

Green chillies slit

 2

Small carrot chopped

 1

Garam masala powder 

1 teaspoon

Broccoli florets blanched

 8-10
Method
Step 1
Heat oil in a deep non-stick pan. Add bay leaves, cinnamon, cloves, cardamoms, peppercorns and onion, mix and sauté till onion turns translucent.
Step 2
Add tomato and mix. Add salt and ginger-garlic paste, mix and cook till tomato turn soft and pulpy.
Step 3
Add turmeric powder, chilli powder, green chillies and chicken, mix well and sauté for 2 minutes.
Step 4
Add carrot and mix well. Add rice and mix. Add 3 cups water, stir lightly and bring to a boil.
Step 5
Add garam masala powder, mix well, cover and cook till the rice is fully done. Add broccoli florets, mix well and cook for 2 minutes.
Step 6
Serve hot.

HANAN ( A Girl Who sold fish to fund her studies )

Hanan a 19-year-Old Kerala girl coming from a family consisting of an Alcohol father and an ailing mother. With no means of Livelihood to run the family, Hanan had to stand on her own legs and do all odd jobs to support her education and family.