"Jumanji: Welcome to the Jungle" which is a reboot to the original classic seems to be better than the Original. The first movie which released in 1995 with Robin Williams continues its legacy as the reboot is, even more, fun and a lot better.
The early reviews are too positive. Here, a group of teens gets transformed into Video game characters and the fun which happens later is just mindblowing. Jack Black character in particular as a teenage girl. Dwayne Johnson said this movie would be a tribute to the Original version and it was quite true.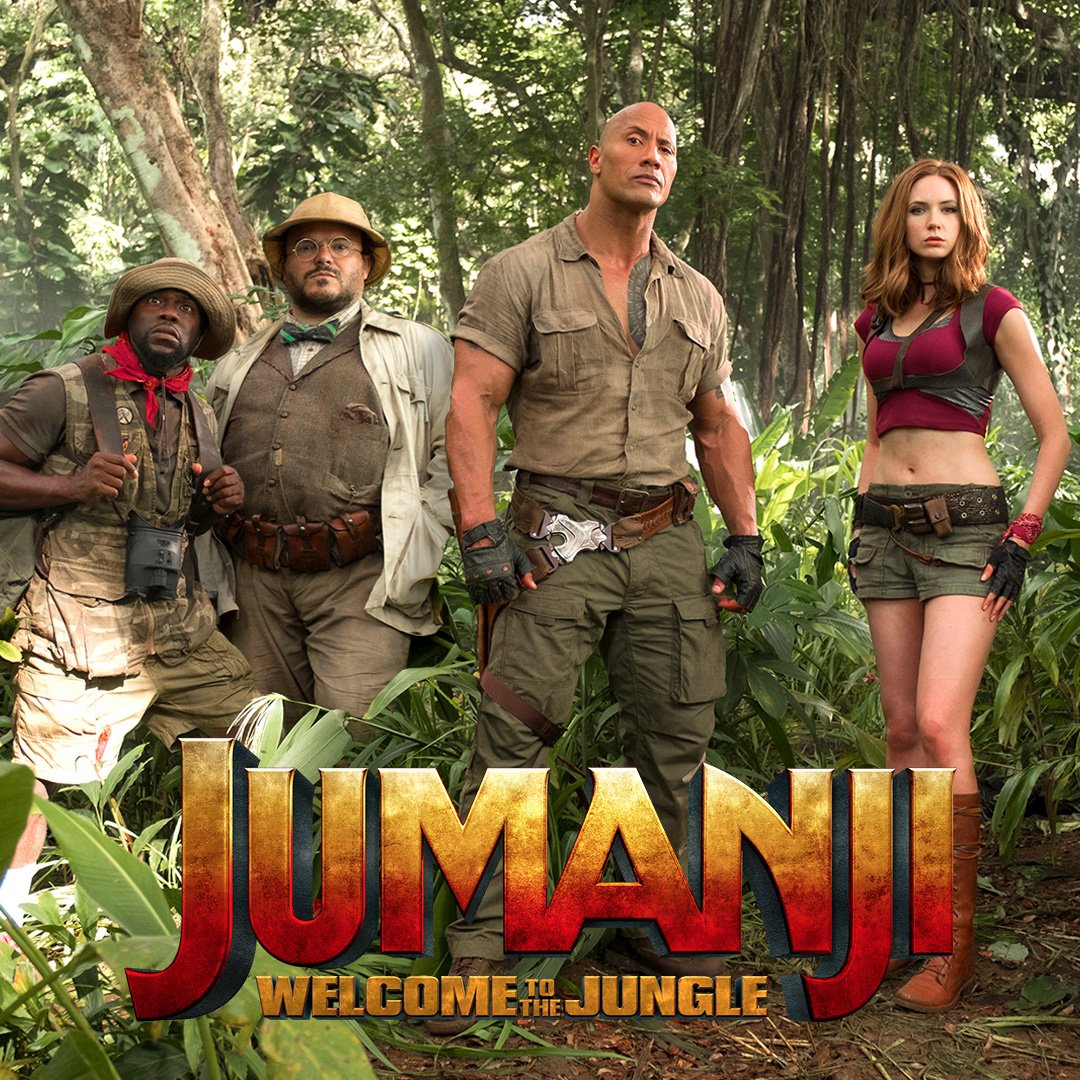 The Visual effects are quite stunning and all characters including Dwayne Johnson, Kevin Hart, Jack Black, and Karen Gillan have done an impeccable job of surviving in the jungle.  Check some of the Twitter reactions below,
I can now say that the biggest surprise of the holiday season is #Jumanji. It's super entertaining & very funny w/ terrific cast chemistry (especially b/t @TheRock & @KevinHart4real). Video game fans will dig it even more. See it w/ the whole family pic.twitter.com/e6FOPwjsB5

— ErikDavis (@ErikDavis) November 27, 2017
Saw @jumanjimovie last night and it is A LOT of fun! @TheRock @karengillan @KevinHart4real and #JackBlack are chemistry gold. The body swapping stuff totally works, the action scenes are well done and it's got a great BIG heart at the center of it. Highly recommend it. #Jumanji pic.twitter.com/OmXkc1I24o

— John Steven Rocha (@TheRochaSays) November 27, 2017
#Jumanji was a ton of fun. Great nods to the original. Jack Black steals it. @TheRock and @KevinHart4real need to keep working together.

And YO I love @karengillan!

— Brandon Davis (@BrandonDavisBD) November 27, 2017
There's a lot of laughs and heart in #Jumanji. Cast has some pretty special chemistry and the game angle totally works. Props to @TheRock @KevinHart4real @karengillan and Jack Black for playing kids so well!

— Rob Keyes (@rob_keyes) November 27, 2017
#Jumanji is such a fun adventure movie. @TheRock @KevinHart4real & the rest of the cast did an amazing job.

— Yesha (@YeshaCallahan) November 27, 2017

Deepika Padukone next with Irrfan Khan

Bollywood's starlet Deepika Padukone, one of the most popular actresses in India, has recently signed a massive superhero film. Accordingly the actress was supposed to work with Irrfan Khan and however, after he fell ill, the project was shelved and Deepika hadn't signed any film after that. Presently, she is said to be quite impressed with an action film.