For all those who don't know, Umair Sandhu is an Editor in an Indian Cinema Magazine, UK, and UAE. Sandhu is also a member of UK Censor board. Mostly, every time, before the movie releases, he will give a review on Facebook.
Every time he keeps it a habit to shame Pawan Kalyan. When 'Sardaar Gabbar Singh' released, he did the same and praised it. He also gave a detailed review on the Facebook. What's even worse is, he gave 5-Stars Rating! We all knew what happened to 'Sardaar Gabbar Singh' earlier. See the reviews he gave for 'Sardaar Gabbar Singh'.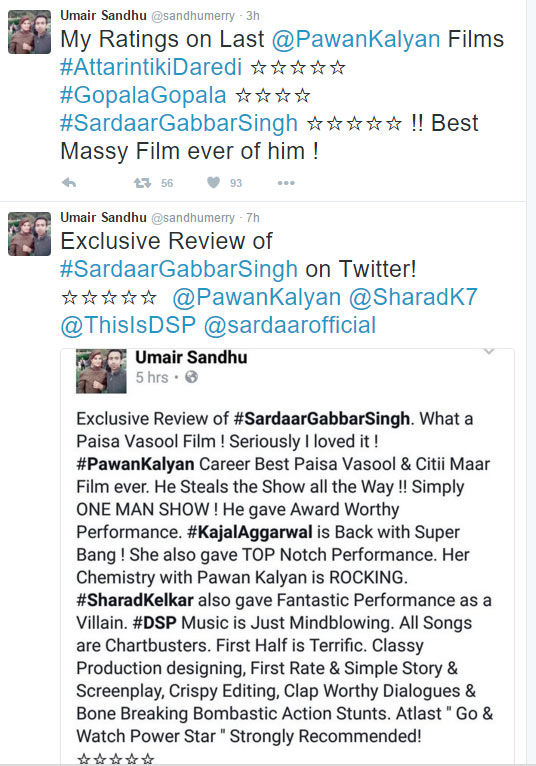 Indian Cinema Magazine UAE Review #SardaarGabbarSingh. @PawanKalyan gave Career Best Performance ever. He is One Man Show all the Way. ☆☆☆☆☆

— Umair Sandhu (@sandhumerry) April 6, 2016
And now, he does the same for 'Agnyathavaasi' too. As expected the fate of the movie is sealed too. But even before the first show ended he rated the movie as topnotch, mindblowing, etc., It seems he's sarcastic and trying to shame Pawan Kalyan intentionally. When premieres itself started on 9th Jan, he tweeted the below review on 8th itself...
EXCLUSIVE First Detail Review of #Agnyaathavaasi in the World ! Powerstar #PawanKalyan Steals the Show all the way. Full on Family Entertainer ! BLOCKBUSTER. ☆☆☆☆ ! https://t.co/nds9o5QygW

— Umair Sandhu (@sandhumerry) January 8, 2018