Superstar Rajnikanth made his first public appearance post the announcement of his political ambitions in December, as gave a fiery thought-provoking speech at the MGR Educational and Research Institue, where he made his political plans and ambitions clear, revealing that after the demise of Former CM Jayalalitha, Tamilnadu had been missing a leader, and he plans to fill the vacuum with his political presence.
Speaking at the university, the actor turned politician, recounted a lot of incidents, after the unveiling of the statue of former Chief Minister of Tamilnadu and popular actor MGR. Here's an excerpt of his speech. 
The actor started instructing his fans, not to put up banners or cutouts henceforth, as everyone must respect court orders, and it must be noted that the activist Traffic Ramasamy was at the venue to protest against the banners. Rajnikanth said, "It was AC Shanmugam who had persuaded me to enter politics. He was much affectionate on me and having come from a middle-class background, he graduated in law, and had then opened the institution". 
He then went on to question the crowd "While MGR came from films into politics, and then even Jayalalitha came from films to politics and both ruled the state for man year, why do people now hate actors coming into politics? And why are actors questioned for entering the industry of politicians? Even if you don't encourage me, why do you have discouraged me, who had been a friend of Moopanar, Cho Ramasamy, Kalaignar Karunanidhi and have even learned politics from them?". 
The Superstar later went on to recollect his fond memories of MGR, heaping praises and taking the audience with him on a nostalgic trip "Everyone cannot become an MGR, and he's irreplaceable, "Makkal Thilagam", and a "Yuga Purushan".I firmly believe that I can bring back the good old governance of him, with the strong support of youth, public, and techies and political specialists. God is on my side. I have always been a big fan of MGR. On screen, he was competing in the film industry with Sivaji Ganesan, and off screen, he was fighting the political battle with Kalaignar Karunanidhi. He introduced the Midday meal, and people had voted for him even when he was sick and couldn't campaign actively".
" When I was admitted to hospital for nervous breakdown, i remember getting a call from MGR, when he enquired about my health, while also advising me that for an actor, health was very important, while also telling me to refrain from taking the risk of performing own stunts, and encouraged me to get married. I call MGR a divine, godly soul, and I don't care even if people think I use these words to claim the votes of MGR  loyalists. While my wife Latha's parents were against our marriage, I had told MGR that her family wasn't happy with agreeing to the marriage, and just 2 days later, her family had agreed, and it was then that I got to know, MGR had called YG Parthasarathy to convince them, telling them that though Rajni is a short-tempered lad, he's a very good guy.In 1984, I was denied permission for building the Raghavendra Mandapa, and when I sought CM MGR's help, he had immediately told the bureaucrats, Rajni wants to do something good, and he's someone who came up to this level on his own, issue him a NOC, and I got the NOC in just 2 days". 
Superstar Rajnikanth went on to add, telling the students "Get to know politics totally, but also constantly keep educating yourselves, and even if you are not able to choose your life partner, choose friends wisely!". He also said that the Spiritual politics he mentions is something pure, truthful and non-casteist and secular, a politics that believes God.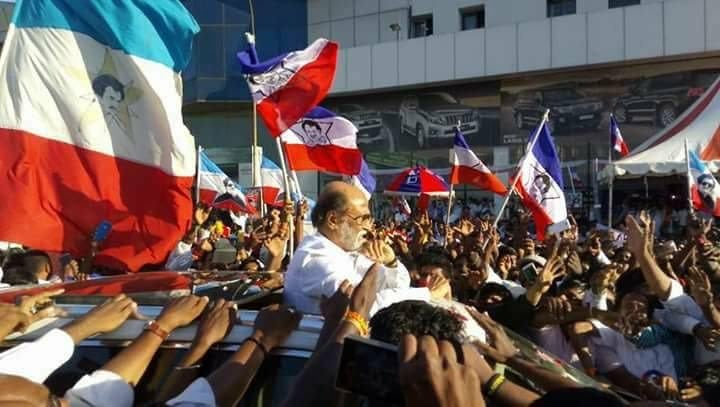 With the unveiling of MGR Statues and recollecting of many memories of him with the most powerful persona of Tamilnadu Politics, till date, MGR, Superstar Rajnikanth seems to be a tough competitor for his industry counterpart and latest political entrant, Ulaganayagan Kamal Haasan, the founder of Makkal Needhi Maiam. Let's see who wins the clash of the actors turned politicians and if the actors can save Tamilnadu, which is now in a crisis situation of a literally non-existent government.

Was Samantha forced to wear Low Hip Saree?

Samantha had a good run so far and the first half of 2018 was a huge success for her. The actress is fondly called as Million Dollar Baby as all her releases entered the Million Dollar Club in the US Box-Office and now it's time for 2019.