Hyderabad sources have stated that Telangana and Andhra Pradesh states will receive rains for another four days, said Met officials on Wednesday. Several low lying areas in Hyderabad city have been inundated due to incessant rain that had lashed the city from the early hours of Wednesday.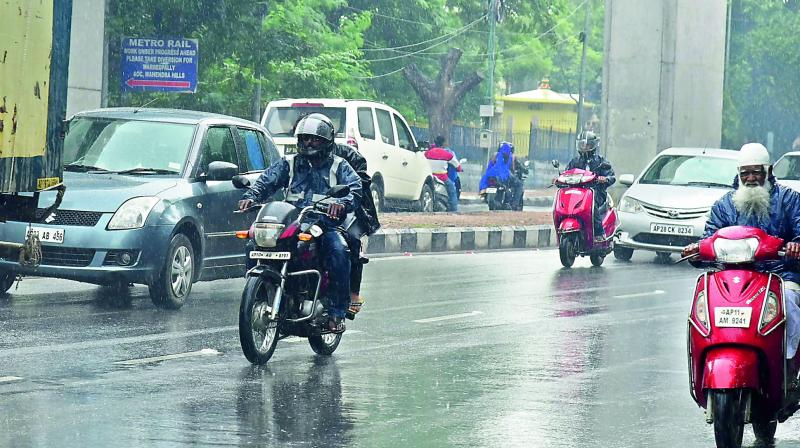 Sources have stated that so far, 6cm of rainfall was registered in Amberpet and surrounding areas while 5cm of rain was recorded in the parts of Bandlaguda, LB Nagar, Narayanaguda. And Musheerabad, Balanagar, Moulali, Ramachandrapuram received 2cm of rain. Moreover as a result of low-pressure formed over the Bay of Bengal, the winds continued to blow from Chattisgarh to South Tamilnadu and parts of Telangana.


According to sources, rains will continue in parts of Rayalaseema and coastal Andhra regions for the next four days. The IMD officials said that Andhra Pradesh would receive rains coupled with thunderstorms and lightning due to formation of cumulonimbus clouds. Furthermore for the past 24 hours, 5cm of rainfall was recorded in Koyyalagudem, Yerragondapalem and Velurupadu mandals.




KT Rama Rao with his adviser been to Seoul

According to sources a delegation led by IT, Industries and Urban Development Minister KT Rama Rao held a series of meetings in Daegu Metropolitan City, South Korea on Monday. Daegu is also known as "Textile City" and is home to several textile, fashion and high-tech industries. Moreover the team also met Youngone Corporation Chairman Kihuk Sung whose company had recently announced a USD 300 million investment in Kakatiya Textile Park.