A few weeks back Cartoonist Bala drew a cartoon which showed a naked Nellai Police Commissioner, Collector and Tamil Nadu Chief Minister covering their private areas with cash and closing their eyes to a child's burning body. This particular cartoon went viral on the social media.
The self-immolation of a family shook the entire state and Cartoonist Bala vented his rage with such a photo. In this case, Bala was arrested at his home on a complaint by the Tirunelveli District Collector Sandeep Nandhudri. Nellai SP Arun Sakthi Kumar said, "Tirunelveli collector filed the complaint by October end and an FIR was registered and he was arrested.
He will be taken into custody and brought to Nellai for further investigations."  A case was filed under Section 501 (Printing or engraving matter known to be defamatory) of the IPC, and it is to be read with section 67 (Punishment for publishing or transmitting obscene material in electronic form) of the IT act.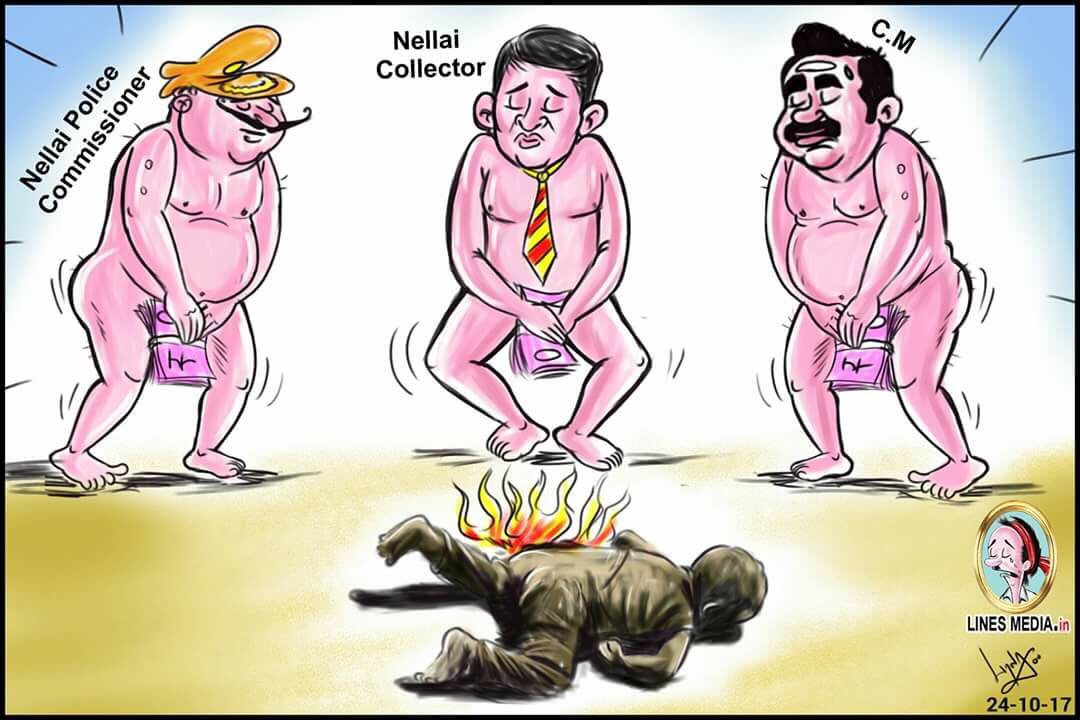 However, no one came in support for the cartoonist and most of them said him as Public Toilet Wall Scribbler, Casteist, Misogynist who masks his ugliness with his Tamil Nationalistic credentials. Most of them even said he don't have any respect for Freedom of Speech. He earlier shamed DMK party leader Kalaignar.

24 year girl asked to leave an Emirates flight complaining about period pain to her boyfriend

According to sources a 24 year old Beth Evans and her boyfriend claim that they were asked to leave an Emirates flight bound for Dubai from UK when one of the attendants overheard Evans complaining about period pain to her boyfriend. Meanwhile as per the Washington Post report Evans says she stressed that the cramps were minor and described them as a "1 out of 10". However, just before the plane was scheduled to depart, they were asked to leave.