AP Chief Minister Chandrababu Naidu is rallying the Chief Ministers of non-BJP ruled States against Prime Minister Narendra Modi. What he started in Bengaluru last month is continuing in Delhi with the AP Chief Minister taking lead to raise the voices for the States against the Central government's approach and also against the Prime Minister.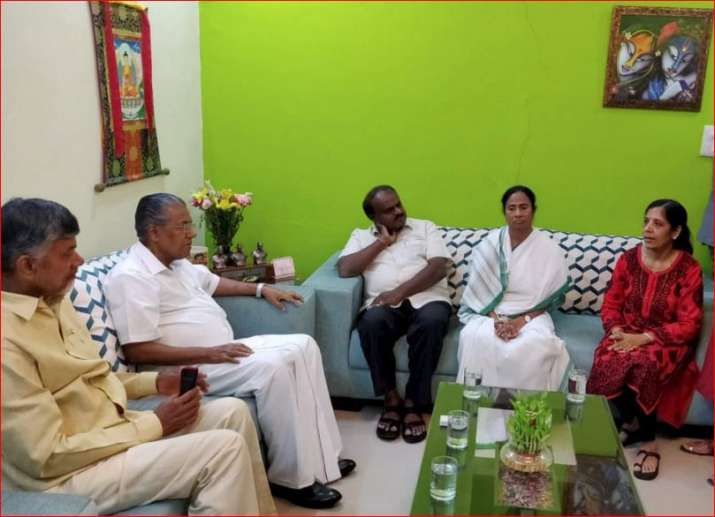 After breaking the alliance with the BJP, Chandrababu Naidu rallied the non-BJP forces to intensify the fight. He backed the candidature of Janata Dal (Secular) chief H D Kumaraswamy as Chief Minister of Karnataka with the support of the Congress. It was here he rallied the Chief Ministers of Kerala, West Bengal, Delhi and other States.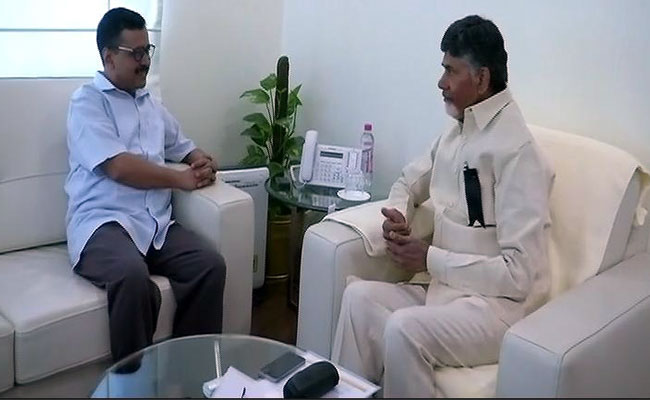 Now, camping in Delhi to attend the NITI Aayog meeting to be chaired by Prime Minister Narendra Modi, the AP Chief Minister held a meeting with the Chief Ministers of three other States – West Bengal, Kerala and Karnataka. The four chief ministers, Chandrababu Naidu, Mamata Benerji, Pinarayi Vijayan and Kumaraswamy, met in Delhi on Saturday evening and extended support to Delhi Chief Minister Arvind Kejriwal, who is on a protest against the Lieutenant Governor's intervention in the IAS officers' functioning against the State.
Interestingly, it was Telangana Chief Minister K Chandrasekhar Rao who mooted the idea of building a secular front, an alternative of the regional parties against the Congress-led UPA and the BJP-led NDA. He had even met Mamata Benerji in West Bengal and extended support to Kumaraswamy in Karnataka. Samajwadi Party chief Akhilesh Yadav had met Chandrasekhar Rao in Hyderabad and it was believed that the Telangana Chief Minister would rally the non-BJP chief ministers. However, Chandrababu Naidu had hijacked it conveniently and is now an active player of the proposed front. He had gained the support of the Chief Ministers of Kerala, Karnataka, Pondicherry, West Bengal and Delhi, with whose support, Chandrababu Naidu is fighting against Narendra Modi's dispensation.

AP Youngsters, Ladies in support of YS Jagan

Accordingly lack of ambition is not one of Yeduguri Sandinti Jaganmohan Reddy's flaws. When speaking recently after the completion of his 3,648 km long, 340 day 'padayatra' (march on foot) that took him to every corner of Andhra Pradesh, the YSR Congress Party chief who is better known as Jagan Mohan Reddy reportedly told supporters that he wanted to rule the state for 30 years.