Midnapore sources stated a police official said that makeshift tent collapsed during Prime Minister Narendra Modi's rally in West Bengal's Midnapore district yesterday, injuring at least 20 people. Accordingly the tent, officials said, was erected next to the main entrance of the rally venue to shelter people from the rain. Meanwhile many enthusiastic BJP supporters were seen crowding inside the tent during the rally.
As per report the Prime Minister could be heard asking them to be careful and the officials said the prime minister saw the tent collapsing while he was in the middle of his speech. Moreover he immediately instructed SPG personnel standing next to him to look after the people and attend to the injured.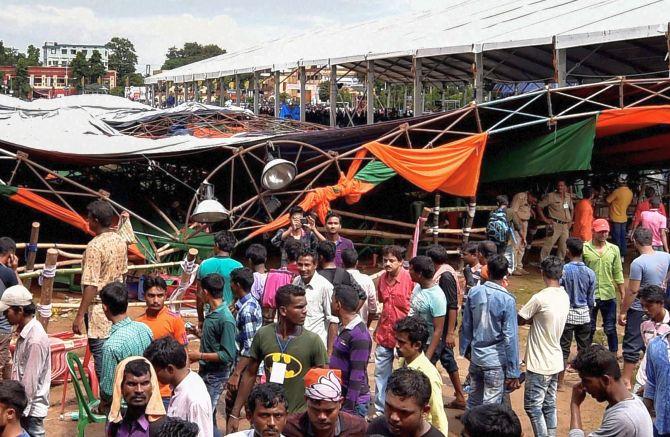 The officials added the local BJP unit as well as Modi's personal staff, including his doctor and SPG personnel, swung into action to help the injured. It was stated that most of the injured have been admitted to hospital, an official said, adding that the number could rise. Furthermore after addressing the rally, the PM went to the hospital to visit the injured. 


IRCTC pays compensation for late running of Tejas Express

Reportedly a delay of more than three hours in the running of Delhi-Lucknow Tejas Express on October 19 has cost IRCTC around Rs 1.62 lakh which the railway subsidiary will pay through its insurance companies as compensation to around 950 passengers, a first in the history of Indian Railways. The officials said on Monday "The train started from Lucknow at around 9.55 am instead of its scheduled