As per report the deep depression over Southeast Bay of Bengal has intensified into a cyclone, keeping up with the forecast of the Indian Meteorological Department (IMD). Accordingly the cyclone, named Gaja, is currently situated around 930 kms east of Chennai and is expected to bring heavy rains to the regions in coastal Tamilnadu and Andhra Pradesh.
Meanwhile when speaking to the reporters on Sunday at the Regional Meteorological Centre (RMC) office, Chennai, Balachandran, the director of RMC, said that the cyclone will make landfall on November 15 forenoon between Cuddalore and Sriharikota in Andhra Pradesh. Furthermore Balachandran also advised fishermen to not venture into the sea from Monday and further he also requested those who are in the deep sea for fishing to return to the shore by Monday.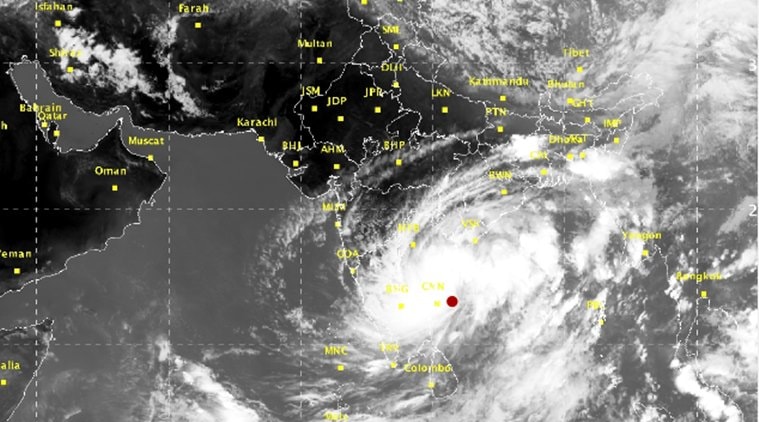 Hence RMC also predicted mild showers across northern Tamilnadu and heavy rainfall in isolated places of north Tamilnadu from November 14 nights. Moreover on November 15, most areas in north Tamilnadu are likely to see mild showers and isolated places in northern Tamilnadu will experience heavy to very heavy rainfall. He said "The cyclone could intensify and when it makes a landfall, it is expected to be as strong as it is now". When speaking about the status of rainfall received in the state from Northeast monsoon, he said that Tamilnadu has received 20 cms of rainfall from October 1 as against the normal rainfall of 26 cms during the period, which is 23% less than the normal rainfall.

Ali Trying To Get Janasena Ticket?

Ali tried his level best to contest in this elections and gave an open offer to any party which give him an MLA ticket and a Cabinet Berth. Initially, TDP looked like giving him an MLA ticket but backed off in the last minute. He went straight to Lotus Pond and joined YSR Congress.