As per report Months after the death of former Tamilnadu Chief Minister M Karunanidhi, a statue of the late leader was unveiled at Anna Arivalayam, the Dravida Munnetra Kazhagam's (DMK) headquarters in Chennai, on Sunday. Meanwhile in the run up to the event, Karunanidhi's son and the newly elected party President MK Stalin has been extending invitations to political heavyweights in a show of opposition unity against the AIADMK government in the state and the BJP at the Centre.
Furthermore UPA Chairperson Sonia Gandhi, who was personally invited by Stalin is set to attend, accompanied by her son and Congress President Rahul Gandhi. Reportedly the statue unveiling ceremony is a pivotal opportunity for the grand anti-BJP alliance that has been in the making ahead of the Lok Sabha elections in 2019. Reports added a grand show of unity by leaders who have been opposed to the government of Prime Minister Modi is expected to send a strong message even as the election season rolls in.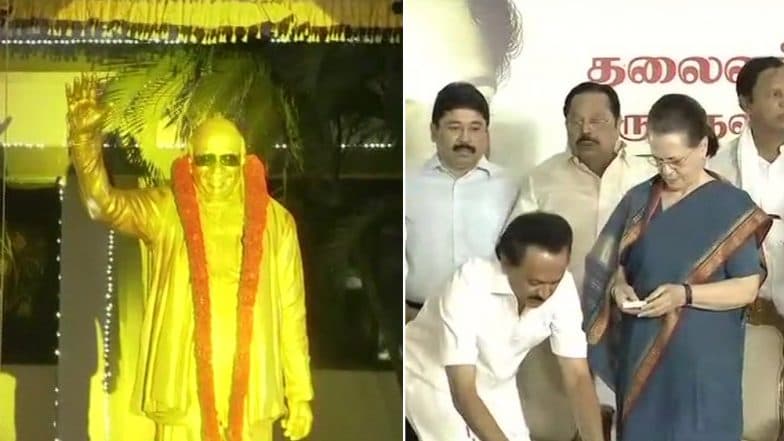 Moreover this would be the party's second grand show this year. Earlier in August, a memorial meet for the late Karunanidhi witnessed several political leaders arrive in Chennai, calling upon Stalin to take up the mantle and carry forward his father's legacy.

When Lokesh Greeted Jagan with Folded Hands

Andhra Pradesh Chief Minister YS Jagan Mohan Reddy for the first time entered the AP Legislative Council Session on Monday. The first day of the 33rd Session commenced in the morning and was presided by Shariff Mohammed Ahmed the Chairman of the AP Legislative Council.