According to sources when responding to the backlash over the allotment of TTD Chairman Camp Office in Amaravati, TTD Chief YV Subba Reddy clarified that he had also requested the state government to set up an office for him in Amaravati as the TTD is building Venkateswara Temple, replica of famous Tirumala's Lord Balaji Temple, in the capital city Amaravati.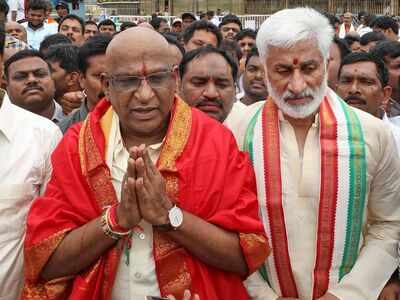 Furthermore Reddy said all he had requested was an office, but he said he hadn't asked for the Chairman Camp Office. Perhaps this is after a severe backlash from Opposition party and a section of media over the additional burden to be incurred to the government due to setting up of the Camp office and the arrangements for TTD Chairman Camp Office at Tadepalli are already underway. Further Subba Reddy has also announced the cancellation of L1, L2, L3 Darshan, the break Darshan for VIPs. He said the move is to accommodate the Darshan for common people. Apparently he said the new development will come into force once the software gets updated
.
When attacking TDP MLC Nara lokesh, YV Subba Reddy said neither he nor his leader YS jagan haven't come into politics in proxy way. He alleged Chandrababu Naidu and lokesh of entering into politics through "backdoor".  Moreover Subba Reddy vowed not to touch a single penny of the Lord Balaji and said he would try to spend money from his own pocket to serve people.

Vijaya Sai Reddy Complaints to Modi About BJP State Leaders?

BJP State Leaders are being extremely critical of the State Government almost on par with the Opposition Party, TDP. YSR Congress is maintaining restraint so as to maintain good relations with the Center. Rajya Sabha MP, Vijaya Sai Reddy along with Ajeya Kallam, principal advisor to the chief minister and other officials went to Prime Minister's Office (PMO) today