According to sources a 28 year old Priyadarshini and her five year old nephew, Ayaan, were killed in a tragic accident at Alwal today in hyderabad. Meanwhile Priyadarshini, who was a nurse by profession was riding pillion on the bike and her brother varun was driving. Accordingly an over speeding SUV came and hit the bike, leaving her brother injured and Priyadarshini and Ayaan dead.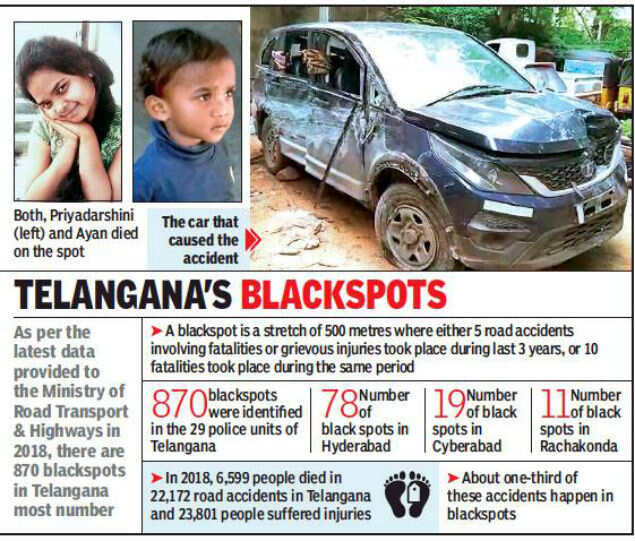 Immediately the nearby locals admitted all three of them to a hospital in Kacheguda and it is reported that Priyadarshini and her brother were taking Ayaan to a hospital as her nephew was suffering from severe vomiting and high fever and Priyadarshini was a nurse at neelima Hospital in Sanathnagar. Moreover the SUV which came and ramped into the bike had a number plate, TS 07 UF 7003, and police confirm the mistake lies on the car driver.
Perhaps after hitting the bike, the nurse and her family jumped to its right, landing on the median and unfortunately, both Priyadarshini and Ayaan died on the spot, while her brother varun is under treatment for mild injuries. Alwal Inspector P Yadagiri said, "Raghavendra Chary, a student, was driving the SUV in a rash and negligent manner resulting in the death of two persons." A case under section 304 A of Indian Penal Code (causing death by negligence) has been registered against Raghavendra and he has been taken into custody for questioning.

PM Modi dared Rahul Gandhi on abrogation of Article 370

According to sources Prime Minister Narendra Modi on Sunday dared opposition on abrogation of Article 370 in Jammu and Kashmir. Meanwhile he asked the opposition parties who are criticizing his government to reserve it "if they dare". Prime Minister said today while addressing a rally in Maharashtra's Jalgaon "If you dare, take a clear stance and come forward". Meanwhile sounding poll bugle in Maharashtra