First day of Pongal is called Bhogi festival is celebrated in honor of Lord Indra, the god of rain, and the lord of lords. The ritual of Bhogi Mantalu is also observed this day, during which useless items of the household are tossed into a bonfire traditionally made of cow dung cakes and wood.
Second day of Pongal is Thai Pongal where a special ritual is performed where rice and milk are boiled together in an earthen pot to which a turmeric plant is tied out in the open as an offering to the sun god. Along with this, sticks of sugarcane, coconuts and bananas are also offered. Third day is Mattu Pongal is the day celebrated in the name of cows. The cattle are adorned with bells, sheaves of corn and garlands and worshipped.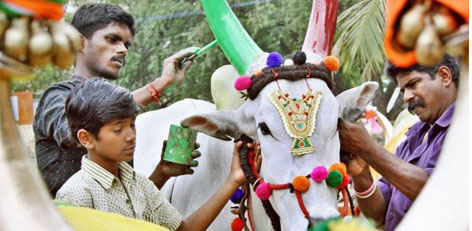 Kaanum Pongal is the fourth day of Pongal and on this day, a ritual is performed where the leftover sweet Pongal and other food are set out in the courtyard on a washed turmeric leaf, along with betel leaves, betel nuts and sugar cane.


Importance of Thai Month in Tamilnadu

Thai Pongal is mainly celebrated to convey the appreciation and thankfulness to the SUN as it act as the primary energy behind agriculture and a good harvest. It is the Surya Mangalyam. Tamilians decorate their homes with banana and mango leaves and embellish the floor with decorative patterns drawn using rice flour.