Be a kid or a teenage or an adult or an oldie, chicken lovers trend all over the world at all times! One meat that is a favourite of all beyond belief! When cooked, it can be presented in many guises. Sauté it, fry it, toss it, bake it, steam it – eat it the way you want to. Whatever its form may be upon being cooked, its flavour may change but its flesh remains high in protein, low in fat and can be digested easily.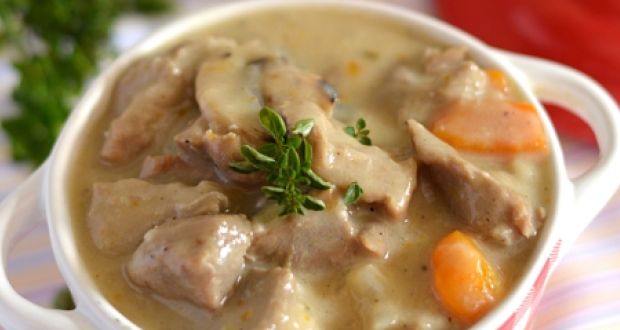 Prep Time : 11-15 minutes
Cook time : 16-20 minutes
Ingredients for Goan Chicken Stew Recipe
Boneless chicken breasts cut into thick strips 

250 grams

Coconut milk 

1 cup

Salt 

to taste

Ginger-garlic paste 

1 tablespoon

Turmeric powder 

¼ teaspoon

Lemon juice 

1 tablespoon

Oil 

4-5 tablespoons

Cloves 

3-4

Cinnamon 

½ inch

Onion sliced 

1 medium

Green capsicum sliced 

1 medium

Green chillies slit 

2-3

Cumin powder 

1 teaspoon

Coriander powder 

1 tablespoon

Black pepper powder 

to taste

Chicken stock 

1 cup

Refined flour (maida) 

1 tablespoon

Tomato sliced 

1 medium
Method
Step 1
Put chicken strips in a bowl, add salt, ginger-garlic paste, turmeric powder and lemon juice, mix well and set aside.
Step 2
Heat oil in a non-stick wok. Add cloves and cinnamon and sauté till fragrant.
Step 3
Add onion and sauté for a minute. Add marinated chicken and mix well. Add capsicum and green chillies and mix on high heat.
Step 4
Add cumin powder, coriander powder, and pepper powder and mix well. Reserve 1 tablespoon chicken stock and add the remaining to the pan and mix. Add salt, mix, cover and cook on low heat for 4-5 minutes.
Step 5
Mix refined flour in reserved chicken stock to make a smooth slurry, add to the pan and mix well.
Step 6
Add coconut milk and tomato, mix, cover and cook on low heat for 2 minutes.
Step 7
Serve hot.
Nutrition Info
Calories : 1807
Carbohydrates : 50.1
Protein : 76.2
Fat : 144.8
Other : Fiber- 9.5gm

Hydrebadi Food

Hydrebadi Food Hyderabadi food is rich and royal, right from delicious biryanis and yummy kebabs to decadent desserts. We picked 3 of our favourite dishes from this fabulous cuisine and show you how to make it within 30 minutes – with the right kind of preparation of course!