Some say Chinese cuisine is 400,000 years old going back to the Peking Man and his use of fire. Some other accounts of the history of Chinese cuisine takes the beginning to the Chinese stone age. However today Chinese cuisine enjoys the distinction of being the most popular in the world.All this furore about Chinese food can make one wonder what is so special about this cuisine.  To put it in one word it is wholesome.  It has the characteristics of being nutritious, economical, balanced and delicious. It cannot be gainsaid that Chinese food is popular the world over and it can be adapted into our modern lifestyles as the strong link between diet and health of body, mind and spirit is epitomized in Chinese cookery. We all desire harmony in our lives and this works on the ancient Taoist principle of Yin and Yang in which balance and contrast are the key. Each Chinese dish reflects a balance of taste, texture, aroma and colour. Be it sweet, sour, pungent, hot, salty or spicy – all the six basic flavours are incorporated deftly in all Chinese dishes.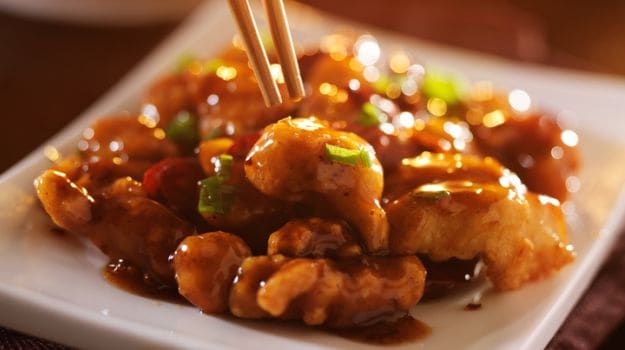 Prep Time : 16-20 minutes
Cook time : 26-30 minutes
Level Of Cooking : Moderate
Ingredients for Ginger Chicken Recipe
Cooked Chicken cooked and shredded

 500 grams

Ginger chopped

 1 tablespoon

Dried mushrooms 

4

Soy sauce 

2 tablespoons

Onion finely chopped

 1

Garlic clove crushed

 1

Vinegar 

2 tablespoons

Sugar 

1 teaspoon

Tomato puree 

1 teaspoon

Salt 

to taste

Black pepper powder 

to taste

Chicken stock 

1 1/2 cups

Oil 

1 tablespoon

Corn flour 

1 tablespoon

Sherry 

1 tablespoon
Method
Step 1
Soak dried mushrooms in warm water for thirty minutes. Drain and slice.
Step 2
Add soy sauce, onion, ginger, garlic, vinegar, sugar, tomato puree, salt and pepper and chicken stock to a non stick pan.
Step 3
Bring to a boil and simmer for two minutes.
Step 4
Heat oil in another non stick pan.. Add chicken and sauté for three to four minutes.
Step 5
Add the soy sauce mixture and mix well.
Step 6
Dilute corn flour in sherry and add to the chicken.
Step 7
Cook till sauce thickens.
Step 8
Add mushrooms and mix well.
Step 9
Serve hot.



Chicken Lollipop Recipe Card

Chicken Lollipop Recipe Card Be a kid or a teenage or an adult or an oldie, chicken lovers trend all over the world at all times! One meat that is a favourite of all beyond belief! When cooked, it can be presented in many guises. Sauté it, fry it, toss it, bake it, steam it – eat it the way you want to.