How many times have we thought rice is a blessing? We use it for holy purposes but we also can pressure up a quick pulao or khichdi when hunger pangs are drumming away! This is one grain that is about 98% percent digestible. In India we are familiar with Basmati, Patna or brown rice but it is also available as Italian Rice and Glutinous Rice which is popular in Chinese and Japanese cuisines.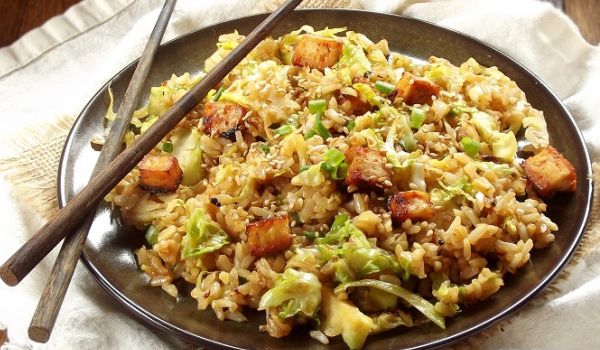 Prep Time : 21-25 minutes
Ingredients for Fried Rice Recipe
Rice cooked in 3 cups vegetable stock

 1½ cups

Oil 

1 tablespoon

Ginger finely chopped

 1 inch

Garlic chopped

 1 tablespoon

Carrot peeled and cut into cubes

 1 medium

Tofu cut into cubes

 50 grams

Edamame beans 

2 tablespoons

Sweet corn kernels 

2-3 tablespoons

Salt 

to taste

Crushed black peppercorns 

to taste

Light soy sauce 

1 tablespoon

Spring onion greens sliced diagonally

 1-2 stalks

Mixed capsicum pieces 

1 cup
Method
Step 1
Heat oil in a non-stick wok. Add ginger and garlic and sauté for 30 seconds. Add carrot and sauté for 1 minute.
Step 2
Add tofu, edamame beans and corn kernels and toss on high heat. Add rice and toss well.
Step 3
Add salt and crushed peppercorns and mix. Add soy sauce and toss. Add spring onion greens, toss well and cook for 1 minute.
Step 4
Add mixed capsicums, toss well and cook for 1 minute.
Step 5
Serve hot.

HANAN ( A Girl Who sold fish to fund her studies )

Hanan a 19-year-Old Kerala girl coming from a family consisting of an Alcohol father and an ailing mother. With no means of Livelihood to run the family, Hanan had to stand on her own legs and do all odd jobs to support her education and family.